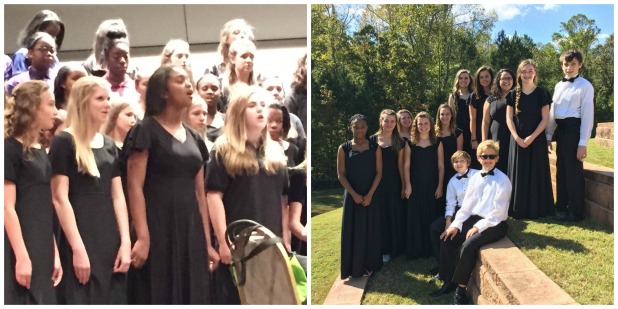 Chorus students in grades 7-8 from Booth Middle School, under the direction of Kara Post, participated Oct. 20-21 in the annual District Honor Chorus.
Along with students from several other schools in surrounding counties, they rehearsed with guest conductors for two days then presented a concert at the Coweta Centre for the Performing Arts in Newnan.
Students were selected by audition in September.
Seventh-grade alto Morgan Batie was chosen to perform a solo at the event.
In the group photo above are chorus members Josh Safran, Lance Johnston, Zakaiah Roberts, Nola Peake, Maddie Drouillard, McKaylynn Moen, Kinsey Stierwalt, Ashlyn Hinds, Cami Giorgi, Alex Angulo, Andee Nix and Eric Blenkush. In the other photo Batie performs her solo.