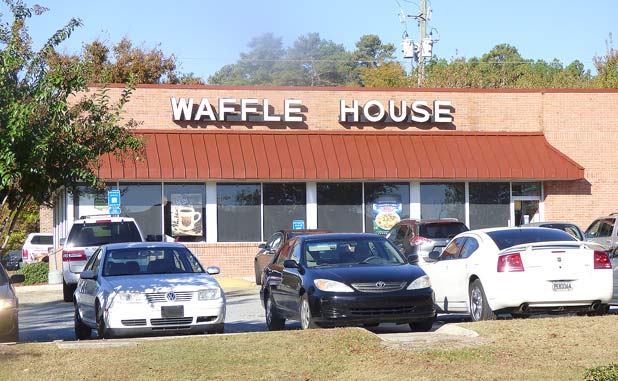 Waffle House at Ginger Cake Road and Hwy. 54 in Fayetteville. Photo/Ben Nelms.
Two of the Waffle House restaurants in Fayetteville saw back-to-back armed robberies on Oct. 24 and 25. There were no injuries in either robbery.
The latest holdup occurred at the Waffle House on Ga. Highway 54 West near Ginger Cake Road at approximately 1 a.m. on Oct. 25.
Fayetteville Police Department spokesman Mike Whitlow said a black male wearing a red hoodie, mask and gloves and carrying a handgun entered the store and demanded money from the cash register.
The man brought a plastic bag with him, Whitlow said.
There were no injuries in the incident, said Whitlow.
The manager of the restaurant is Ginger Jones Gaskins, the daughter of James Jones, who served as Fayette County's sheriff from 1969 to 1977. In a Facebook posting hours after the robbery, she said, "Yes, the Fayetteville bubble has [been] broken, busted and stomped on."
An armed robber at the Waffle House on North Glynn Street in Fayetteville on Oct. 24 made off with cash from the register and a customer's wallet. No one was injured in that robbery.
Whitlow said a black male in his early 20s entered the restaurant at approximately 12:15 a.m., carrying a small, silver semi-automatic handgun.
The man demanded that a waitress give him money from the cash register, Whitlow said, adding that the robber also took a wallet from a customer.
The man, described as wearing a black shirt and pants and wearing a black and white skull mask then exited the restaurant, said Whitlow.
It is possible that a second man was waiting outside the restaurant, said Whitlow.
Area video is being reviewed.
Whitlow said the two robberies in two nights show similarities to the robberies of several other Waffle House restaurants in the metro area in the past several months.
"We're investigating the possibility that they are connected," said Whitlow.
Anyone with information pertaining to these crimes is asked to contact the Fayetteville Police Department at 770-461-4441.