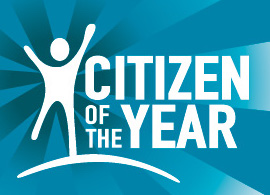 One of the highlights of the civic year in Coweta County is the announcement of the Citizen of the Year. Nominations for the 2017 Citizen of the Year are now being accepted, and the winner will be named when the Kiwanis Clubs of Coweta host the Citizen of the Year dinner Thursday, Jan. 26, at 6:30 p.m. at the Coweta County Fairgrounds, 275 Pine Road in Newnan.
This award is designed to honor an individual with outstanding leadership and citizenship within our community, someone who has demonstrated exemplary vision, civic pride, and a strong commitment to a better Coweta. The Citizen of the Year award annually recognizes an individual with these characteristics:
* The nominee should live in Coweta County, and his/her activities should be centered in Coweta County and the surrounding area.
* Consideration will be given to those who demonstrate leadership and performance in multiple areas of community service over a period of years.
* The nominee may be an individual from any walk of life, and there are no requirements or restrictions relating to gender, age, race, religion or ethnic background.
The three most recent Citizen of the Year winners all agree that they were honored to receive the award and found it both humbling and motivating.
The 2016 Citizen of the Year is Bob Coggin, a community activist and philanthropist who is a retired Delta executive and former member of the Newnan City Council.
"When you are very active in the community and engaged in many efforts to improve our community, it is very motivating to receive the kind of recognition implied when you are selected as Citizen of the Year," Coggin said.
Walt Gutierrez, owner of Toyota of Newnan, was named the Citizen of the Year in 2015.
"Being nominated for Citizen of the Year was such an honor, and being the selected nominee out of a group of amazing people was a humbling experience," Gutierrez said. "It motivated me to be an even better steward of our community."
The 2014 Citizen of the Year was Newnan businessman Frank Barron, who serves as president of Lindsey's Realtors in Newnan.
"Being named Citizen of the Year among so many distinguished nominees and past winners, all of whom were my local heroes, was very humbling," Barron said. "To me, it is the highest award given locally, and to even be considered is extremely gratifying. We are very fortunate to have so many in our community that freely give back, and that is what makes our community so great. That and the many unsung heroes who give of themselves every day to make life better for their fellow man. I will forever be grateful for this special recognition and to those who continue to make Newnan and Coweta County the greatest community on earth."
A dinner buffet will take place Jan. 26 prior to the announcement of the Citizen of the Year. Tickets are $350 for corporate tables with preferred seating, $250 for tables of eight, and $30 for individual tickets. The deadline for reserving tables is Jan. 13 and the deadline for reserving individual tickets is Jan. 20. Tickets will be available for purchase beginning Jan. 5 at Southtowne Motors of Newnan, Lindsey's Inc. Realtors, Toyota of Newnan, and the Newnan-Coweta Chamber.
For more information, contact Walt Gutierrez at 770-502-1333 or Nancy Walden at 770-596-6428.