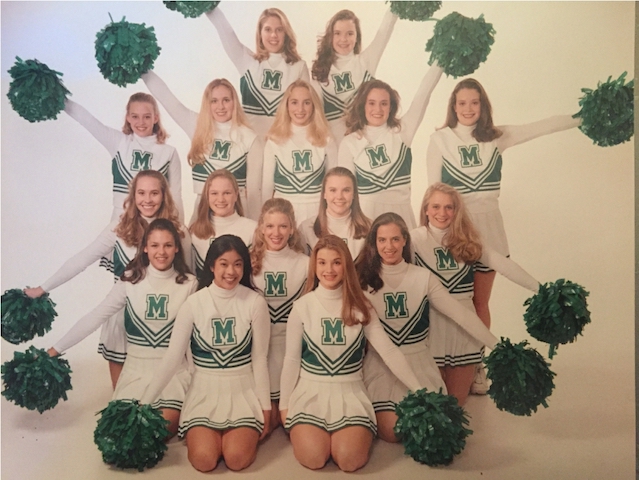 McIntosh High School is inducting a new class of stellar Chiefs this weekend at the 6th annual Hall of Fame. The Class of 2016 includes a former teacher, two soccer players, a golfer and a Chiefette.
The weekend kicks off with the Hall of Fame football game Friday night against Griffin. The inductees and the 1995 state championship cheerleading team will be recognized at halftime.
The banquet dinner and induction ceremony will take place Saturday at The Loft at Due South in Peachtree City.
The Distinguished Alumni inductee is Joan Noble Houghton. She started teaching gifted English at McIntosh when the school first opened in 1981 and was a much loved teacher until her retirement in 1997.
She graduated with highest honors in 1954 from the University of Illinois at Urbana-Champaign and began teaching right after graduation. At McIntosh, she taught ninth and tenth grade gifted English classes as well as some speech classes. She was a very highly regarded teacher and advisor and was twice named a STAR teacher.
For ten years, she took her gifted English students to usher in Atlanta once a month at the Alliance Theatre, at the Fox Theatre, and at the Civic Center so they could be exposed to and enjoy entire seasons of first-rate dramas and performances directly from New York. In June 1988, she and another teacher took a group of students behind the Berlin Wall on Aeroflot to Moscow and Leningrad in the Soviet Union.
She battled cancer while at McIntosh and taught totally bald for one year, never giving up her positive attitude or her dedication and enthusiasm for her students success. When she retired, her daughter and son-in-law, Drs. Kenya and David Anders, established a $1,000 yearly scholarship in her name. The scholarship is now in its 20th year of being awarded for excellence in academics to an exemplary MHS senior.
Jessica Lenze Condon graduated from McIntosh in 2005 and from the University of Georgia in 2009. She is being inducted for her outstanding accomplishments as a four-year varsity soccer letter winner and member of the 2004 and 2005 state championship girls soccer teams.
She was the Offensive MVP all four years and team captain for her sophomore, junior and senior years. She was named to the Region All Star Team and the All-County Soccer Team three consecutive years, winning All-County Player of the Year twice. She was the National Soccer Coaches Association of America High School Georgia State Player of the Year in 2004 and the Citizen's Girls 4A Player of the Year in 2005. She is a two-time high school All-American and a two-time Atlanta Journal Constitution Player of the Year. She helped lead the Girls Chiefs soccer team to a #1 ranking in the nation in 2005, the same year she won the U.S. Army Reserve National Scholar/Athlete Award.
She earned a soccer scholarship to Vanderbilt and was named to the All-SEC freshman team. She transferred to UGA and was on the women's varsity soccer team her sophomore year.
She graduated summa cum laude from UGA in 2009 with a bachelor of business administration in real estate from the Terry College of Business.
Johan Kok graduated from McIntosh in 1998 and from the University of South Carolina in 2002. Johan was a four-year varsity golf letter winner and the 1997 boys individual state champion. He was named a Rolex Junior All-American in 1996 and was the individual region champ in 1997 AND 1998; ranked individually in the top five in the state in 1997 and 1998.
He went to the University of South Carolina on a full golf scholarship. While there he earned several individual and team tournament victories. He was the Golf World National Collegiate Player of the Week during September 2000 and he made the Academic All-SEC team in 2001 and 2002. He graduated in 2003 with a degree in real estate and risk management, winning an academic award from the USC Darla Moore School of Business.
He turned pro shortly after graduation, recording numerous top-10 finishes on the South African and European tours. He qualified for the PGA tour in 2007 and has earned numerous tournament wins. When he played in the 2014 PGA Championship tournament, he made a 97-foot eagle shot from off the green and it ended up being the #1 play on ESPN's SportsCenter during the tournament and it was televised nationwide on the Golf Channel, CBS, NBC and TNT.
Nichole O'Brien Martin graduated from McIntosh in 2002 and from Emory University in 2006. She is being inducted for her outstanding accomplishments as a four-year varsity Chiefettes letter winner, member of six different state dance championship teams (three in Jazz, two in Kick and one in Pom) as well as earning first place solo for the 1999 Junior Miss UDA and 2002 Senior Miss UDA.
She was varsity Chiefettes captain for two years. While at Emory, she danced professionally for Atlanta Ballet and Georgia Dance Theatre. During her freshman year, she founded and directed the Emory Eagle Elite Dance Team and performed, directed, and choreographed for the Oxford Dance Company, the Emory Dance Company, and the AHANA Dance Company. She was also a member of the E-Motion Dance Team for two years. After graduation, she continued to dance professionally for Georgia Dance Theatre and was under contract for nine consecutive seasons.
Patrick Murray graduated from McIntosh in 2005 and from Furman University in 2009. He was a four-year varsity letterman in soccer at McIntosh, was team captain for three years, team MVP for two years and Impact player of the year for two years. He set the record for most assists in a game (8) and most games started in a career (73). He also scored 60 goals as a Chief.
While playing with the AFC Lightning, his team won three state championships. He won a full soccer scholarship to Vanderbilt where he made the Missouri Valley All-Freshman Team. He then transferred to Furman and was team captain for three years, a Scholar All-American for two years, on the All-Region and the All-Conference teams for two years each. He led his Furman team to the 2007 Conference and the 2007 Conference tournament titles. He was on the Missouri Athletic Club's Hermann Watch List for 2008 and a Major League Soccer Combine Invitee in 2009.
Part of the McIntosh Hall of Fame celebration this weekend includes honoring the legacy of athletic excellence as embodied by the many state championship teams McIntosh claims. This year, the 1995 state champion cheerleaders are being recognized. The 16-member squad included Michele Lapid Graham, Laura Hammer Luley, Laura Sconyers Wheeler, Gabby Routon Seeby, Laura Berlo Webb, Rachel Cook Lockman, Ali Hofmeister Daly, Kristen Hough Petras, Meg Emery Boerstler (inducted into the 2013 Hall of Fame), Adriane Atkinson Cagle, Jamie Kulas Watson, Erica Hedden Singler, Katie Owery Eustace, Angie Philpot Foerster, Mary McCroy Coffing and Tiffany Daniel O'Neil. Photo/Submitted.