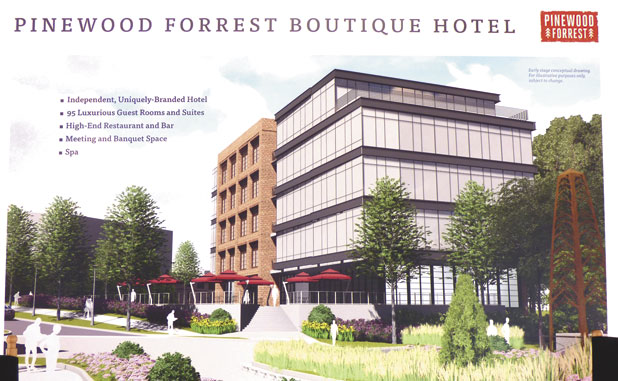 It has been clear for some time that the large Pinewood Forrest development across from Pinewood Atlanta Studios in west Fayetteville will be something different. The beginnings of that difference was unveiled on Oct. 14.
Labeled the first of upcoming Pinewood Progress updates, Pinewood Forrest Project Director Bill Lynch, Chick-fil-A CEO and Pinewood Forrest principal Dan Cathy, newly appointed Pinewood Forrest President Rob Parker and Crow Hospitality Investment Group President John Crow laid out some of the details of Village Square, the first of several districts within the development.
One of the first to be constructed will be a 95-room boutique hotel developed by HCH Pinewood Forrest, LLC and operated by Hay Creek Hotels. The hotel is expected to open in 2018.
"We're honored to join the Pinewood Forrest community and development team to create the property that will help anchor Village Square," said John Crow, president of Crow Hospitality Investment Group. "We expect very high demand for this unique boutique hotel that will offer amazing experiences."
On the residential front, the first phase of homesites will activate the beginnings of the Garden and Culinary districts. The first homesites will be available for reservation in the coming months.
"We expect the initial group of homesites to sell quickly based on interest we've already seen and the excitement already created at Pinewood Forrest," said Lynch.
Pinewood Forrest Real Estate also announced that it has added Ansley Atlanta as its partner in its residential services team. Ansley Atlanta, a leading boutique luxury real estate brokerage firm in metro Atlanta, will provide residential sales and marketing for the Pinewood Forrest development under the name of Pinewood Forrest Real Estate.
Also announced was the Pinewood Forrest green building certification program and formation of the Pinewood Forrest Builders Guild. The green building certification program will ensure Pinewood Forrest builders meet a high standard for sustainable building practices. The Builders Guild will be a collection of 8-10 reputable builders in the metro Atlanta area.
"The talented, carefully selected team of homebuilders we're assembling furthers our belief that Pinewood Forrest will set a new bar for residential developments in mixed-use projects," said Lynch. "We are confident this group will deliver quality residences that follow the architectural standards set for Pinewood Forrest, including a green building certification program that will exceed typical certification program requirements by approximately 50 percent."
An expanded version of this story will be included in the Oct. 19 edition of The Citizen.