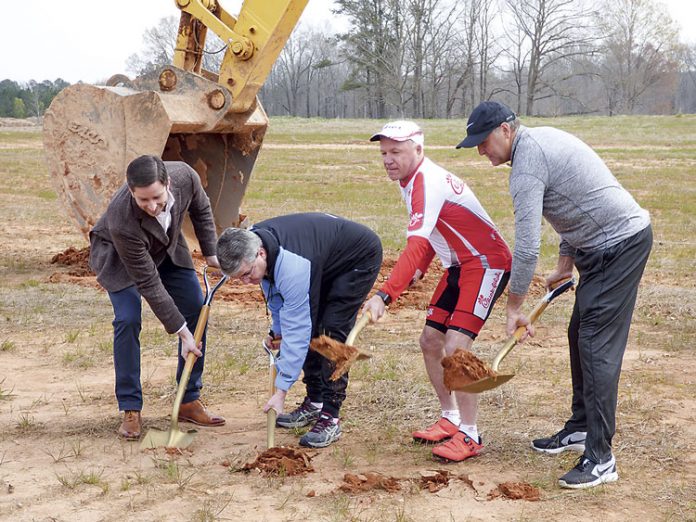 Groundbreaking ceremonies held March 16 for the Piedmont Wellness Center at Pinewood Forest in Fayetteville will soon lead to the construction of a 60,000 sq. ft. medically-integrated wellness center that will be open to the public.
---
Above, March 16 groundbreaking activities for the Piedmont Wellness Center at Pinewood Forest in Fayetteville included, from left, Pace Lynch Realty co-founder Jason Pace, Piedmont Fayette Hospital CEO Michael Burnett, Pinewood Forest Chief Visionary Dan Cathy and Pinewood Forest President Rob Parker. Photo/Ben Nelms.
---
"This will be the first time that Piedmont has integrated a health and wellness location within a residential community," said Piedmont Fayette CEO Michael Burnett. "We believe this innovative facility will not only be a gold standard fitness facility for people of all ages and abilities, but will also be the best way to deliver preventive medicine and healthcare solutions for a community focused on wellness and living better."
The Piedmont Wellness Center at Pinewood Forest is a collaboration between Pinewood Forest, Piedmont Fayette Hospital and Pace Lynch Corporation. The medically-integrated wellness center will be an innovative facility, open to the public and aimed at the health and well-being of citizens of all ages. The center is expected to open in late 2019.
The 60,000 sq. ft., two-story facility situated on 3.6 acres is designed to create a culture of health and wellness, supporting the healthy lifestyle goals of the community and acting as a bridge between medical care and wellness. In addition to the fitness and rehabilitation services provided at the wellness center, area athletes will also be able to train with D-1 Sports Training, which offers individually tailored programs for individuals and teams in every sport.
Other features of the wellness center are expected to include a six-lane lap pool and therapy pool, multiple fitness studios, an active gaming component, an exercise spin room and 18,000 square feet of fitness space on two floors.
The center will engage with the outdoors outside a wall of glass, connecting with a central park, an open-air elevated exercise platform, activity lawns, and more than 15 miles of integrated trail and path systems that meander throughout the community and nature preserve areas.
"God gave us a temple that we're supposed to take care of," said former University of Georgia football player Herschel Walker, one of the many in the large audience attending the groundbreaking.
"Wellness is a key cornerstone of our community philosophy and having the Piedmont Wellness Center in the heart of our downtown illustrates our commitment," said Pinewood Forest President Rob Parker. "We are excited about this special partnership with Piedmont Fayette as we collectively push forward on new and innovative ways to promote wellness to our residents and guests alike."
Burnett said a wellness center is different from a gym or a fitness center because it offers programs that are tracked and overseen by medical professionals.
"The environment offers clinical integration so that physical therapists and exercise physiologists share common space. You can have people taking a hot yoga class in one studio, while someone is working with a therapist on rehabbing a shoulder injury in another area," said Burnett. "In other areas, athletes can be optimizing their training while others swim laps in the pool or participate in therapeutic lifestyle programs, disease management or prevention fitness programs."
Memberships to the Piedmont Wellness Center at Pinewood Forest will be open to the public with access to the outpatient rehab/healthcare services by appointment.
Located on Veterans Parkway across from Pinewood Atlanta Studios, the residential and commercial development situated on 234 acres will include 125,000 sq. ft. of mixed use retail, 150,500 sq. ft. of office/commercial/retail, 300 hotel rooms, 600 multi-family and live-work units, 100 townhome units, 600 single-family residences.
Construction on the first 50 single-family homes is either completed or underway. Two large Village Square retail and apartment buildings are expected to begin construction soon.