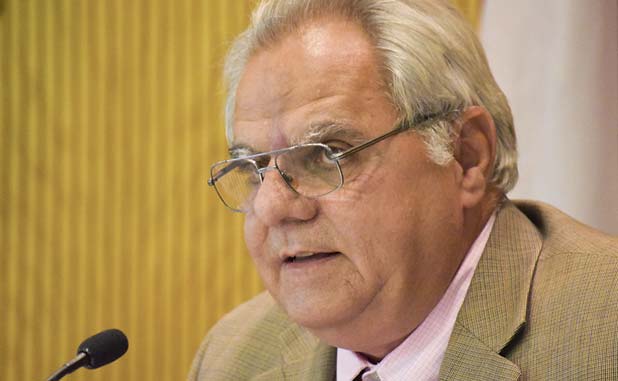 As has happened numerous times in recent months, discussion of a specific agenda item by the Fayette County Board of Commissioners turned into a debate between board members over how agenda items are handled.
Commissioner Randy Ognio recommended a policy change that would not allow any individual to be appointed by the board to more than one authority, board, commission or committee at the same time. That was approved 4-1 with the lone opposition vote coming from Chairman Charles Oddo, who was directly affected by the changes.
Ognio proposed to change one point which previously stipulated, "The Chairman of the Board of Commissioners will appoint up to two Commissioners (referred to as the Selection Committee) to receive, review, and recommend an applicant for consideration of appointment to the vacant position." He had the words "the chairman of" removed so that the entire board would make such a selection.
A final stipulation added to the policy states, "The Board of Commissioners shall make every effort to avoid appointing an individual to more than one of Fayette County's Authorities, Boards, Commissions, Committees and similarly established bodies at the same time, except to the extent expressly permitted or provided by state or local law."
The stated intent of the amended policy, according to a staff report, "is to avoid appointing an individual to more than one authority, board, commission, committee or similar body, except to the extent expressly permitted or provided by state or local law, thereby allowing more citizens the opportunity to participate on the committees."
Commissioner Steve Brown called the change "the appropriate way to go. It formalizes something we've been doing all along."
Brown pointed out that someone could end up on two bodies at once because some appointments are out of the Board of Commissioners' control. He cited a situation a few years ago in which a single person served on the Development Authority and was also appointed by the local Democratic Party to the county's Board of Elections.
Ognio had first brought up this policy at the Aug. 11 board meeting, and the route it took to get on the Sept. 22 agenda was a source of more friction between various commissioners while also bringing into question the role of County Manager Steve Rapson and his staff regarding each meeting's agenda.
When the question was raised about how long it took for the item to surface at a meeting, Rapson outlined the procedure for placing items on a meeting agenda amid charges by Brown that Rapson and Oddo frequently took inappropriate measures to keep things out of meetings.
As for Ognio's request in this case, "it was held up because it would strike the chairman's authority," said Brown.
Oddo said that the process in place "seems to be working" and there hasn't been a problem. At one point when citing procedures for introducing agenda items, Oddo said the commissioners "are not different. We should follow the same process the staff follows."
"We are different," Brown responded. "We are elected."
"If we are elected, we should serve everybody else," said Oddo.
Brown repeated his previous claims that meetings are conducted inconsistently by Oddo.
"If we're going to have to vote to put something on the agenda, shame on us," he said. "We are all elected by the voters; we all have the same authority. Let's treat everybody the same and give everybody the respect they deserve."
Just before voting no on Ognio's item, Oddo said he had not seen the provision about removing the chairman until the time of the meeting.
"It was right there in the packet," Ognio replied. "If you didn't read the material in the packet, I can't help that."
Commissioner Charles Rousseau reminded his colleagues that he had previously expressed a desire to have no Board of Commissioners members on these other committees, while Brown insisted that certain authorities and boards charged with spending taxpayer money need the direct oversight that only comes from having a county commissioner as a member.
In the week leading up to the Sept. 22 meeting a serious of emails forwarded to The Citizen showed how the debate over meeting procedures continues to rage.
Brown alleged Sept. 14 that Oddo and Rapson told Ognio he could not submit the draft language he wanted for the policy change into his agenda item. He criticized the practice, calling it "the antithesis of good leadership" and questioning where they get the authority to do so.
Rapson responded that Ognio was not told he could not submit changes and they were drafted by the county's legal department at his request. Ognio submitted a request for a second revision that was not discussed at the Aug. 11 meeting and was not included.
"This issue was discussed during our pre-agenda meeting this morning and we agreed that the second proposed revision would need to raised and amended since it wasn't part of the previous direction provided during the Aug. 11 agenda meeting," Rapson wrote. "Vice-Chairman Ognio understood the reasoning and didn't indicate any concern with handling of this issue in this manner."
Commissioner David Barlow entered the fray with a brief statement, calling Brown a "jerk" who is "narcissistically spouting off" and saying that "Ognio isn't smart enough to see Brown's control of him." Barlow said he would continue to defend Oddo from Brown's attacks while he is in office.
Ognio emailed a statement to his colleagues outlining his problems with how the issue was handled. He said he understood after his Aug. 11 request that there would not be time for the legal department to do its work before the very next meeting, then was told on two other occasions that he would have to submit his requested additional wording from the dais during a regular board meeting.
"After Commissioner Brown's email I was contacted by both Administrator Rapson and Chairman Oddo. They both said it was a change to the request that I made at the Aug. 11 meeting so it was not properly vetted," Ognio wrote. "Well, if we have to make all agenda item requests in the commission meetings why do I see agenda items on the agendas that I have never heard a request for in a commission meeting? Am I the only one that has to make a request at a board meeting to get my item on the agenda? So what is the rule?"
Ognio reiterated that this was part of his previously stated concern about inconsistency regarding items brought up by different commissioners.
Brown called the statement about not vetting Ognio's item a "ridiculous" excuse.
"When asked to show a version of the language with amendments, it needs to be done, period," he wrote. "The childish behavior needs to stop. The chairman and county administrator are making a mockery out of Board of Commissioners. As for Mr. Barlow's comments, we can endure his remarks until January [when Barlow's term expires]. He is merely supporting the voters sentiments in the primary election."
After the Sept. 22 meeting Rapson issued a lengthy email about the agenda policy, saying that his staff is doing what the board has told it to do.
"The problem is that the agenda policy the Commission has directed staff to follow is a dogmatic process. We have no ability to exercise professional courtesy or common sense without running the risk of being criticized for not being dogmatic and following the process in a narrow manner," he wrote.
"If we are to provide a transparent process to our residents – the only revision they're aware of would be the request that Vice-Chairman Ognio suggested at the Aug. 11 agenda meeting. They have no idea additional revisions are being proposed. What discretion would you want us to exercise? Can the commissioner who requested the change make additional changes? How many changes? Can other commissioners request changes? Can staff and legal make revisions?
"I know this seems like a petty thing but really it's not – it's about following a process that you outlined staff to follow. This particular agenda item was raised from the dais and any subsequent changes should follow that same process. It really has nothing to do about not being properly vetted since his requested changes were all properly vetted."
Rapson stated that Ognio suggested having any commissioner-requested agenda item be sent to the county manager. "These requests would then be raised as part of a county manager report; the respective commissioner would propose the request; and the commission provide direction to staff. An excellent suggestion."