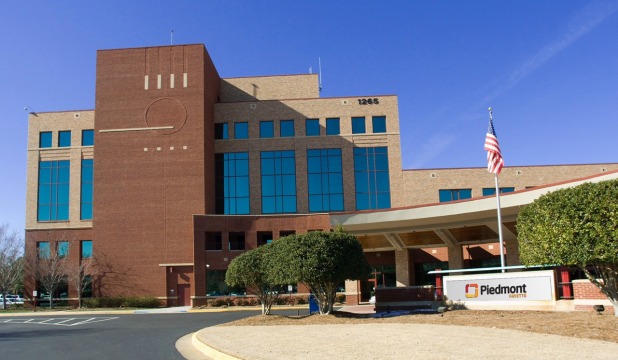 Piedmont Atlanta, Piedmont Fayette, Piedmont Henry, Piedmont Mountainside and Piedmont Newnan hospitals have been named among the nation's Most Wired, according to the 18th Annual Health Care's Most Wired survey, recently released by the American Hospital Association's (AHA) Health Forum.
"This achievement demonstrates our commitment to providing patients with a better experience through technology," said Geoffrey Brown, chief information officer for Piedmont Healthcare. "Whether it is offering telehealth services, enhancing information security measures or increasing patients' access to healthcare, in many ways, technology drives the evolution of patient care."
In redefining the way that they provide care in their communities, Most Wired hospitals are using technology to build patient engagement with the individual's lifestyle in mind, which includes electronic access to their care team. Of note, only 26 percent of the Most Wired hospitals surveyed offer virtual visits through a mobile application such as Piedmont On Call.
"Hospitals are breaking-out of their traditional four walls and providing care where and when patients need it," said Rick Pollack, president and CEO of the AHA. "These Most Wired hospitals exemplify this transformation by harnessing technology, engaging patients and offering services remotely. And, removing policy and other barriers to telehealth will allow even faster adoption of these amazing technologies."
In addition to telehealth, Most Wired hospitals like Piedmont partner with other health care providers to share critical clinical information used in analyzing interventions aimed at key patient groups, such as those with diabetes. To get patients the right care, hospitals use predictive modeling to eliminate preventable problems and to eliminate preventable problems.
"Healthcare has been greatly impacted and improved by technology," said Piedmont Newnan CEO Mike Robertson. "By embracing new trends in technology, Piedmont Newnan ensures that our patients receive the best care possible, inside our hospital and in the community."
HealthCare's Most Wired survey is published annually by Health & Hospitals Networks (H&HN). The 2016 Most Wired survey and benchmarking study is a leading industry barometer measuring information technology (IT) use and adoption among hospitals nationwide. The survey of 680 participants, representing an estimated 2,146 hospitals (more than 34 percent of all hospitals in the U.S.) examines how organizations are leveraging IT to improve performance for value-based health care in the areas of infrastructure, business and administrative management; quality and safety; and clinical integration.
Detailed results of the survey and study can be found in the July issue of Health and Hospitals Networks.
For a full list of winners, visit www.hhnmag.com.