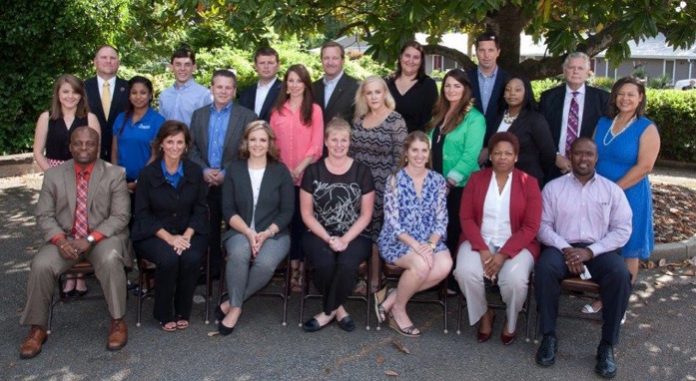 The Newnan-Coweta Chamber has announced the members of its 2016-2017 Leadership Coweta class.
Believing that strong leadership is an essential ingredient in the continuing development of a community, the Chamber offers Leadership Coweta to provide existing and emerging leaders with unique opportunities to enhance their civic knowledge of Coweta County, to sharpen their leadership skills and to network with leaders from across the community.
For more than 20 years, the program has provided participants a better understanding of how this community works, the opportunity to build relationships with the region's leaders, and inspiration to use their talents to serve the community.
Those chosen for the program this year include Buck Anderson, Piedmont Newnan Hospital; Laura Benz, Laura W. Benz, LLC; Cristina I. Bowerman, Newnan-Coweta Habitat for Humanity, Inc.; Jamie Brownlow, Georgia Pain and Spine Care; Joya Carter Hicks, Ph.D., Kennesaw State University; David Cleveland, Coweta-Fayette EMC; Joe Crain III, Crain Oil Company; Amanda Fields, Coweta County Development Authority; Courtney Harcourt, Main Street Newnan; Earl Hines, Newnan Utilities; Doug Kolbenschlag, Georgia Power; Gina Lee, NuLink; Monica Millians, The Southern Credit Union; Ben Norman, Wells Fargo; Tangela N. Reese, Remnant International Christian Ministry; Martin J. Riggs, Landmark Christian School; Dr. Scott Ross, West Georgia Technical College; Christine A. Swanson, Coweta County Water & Sewerage Authority; Terésa R. Taylor, Newnan Country Club; Shelby Tidwell, Dogwood Veterinary Hospital & Laser Center; Kioka Walcott, CTR, Cancer Treatment Centers of America; and David Watts, Heritage Automotive.
Garnet Reynolds of BB&T, and Matt Brass from the office of U.S. Rep. Lynn Westmoreland are serving as this year's Leadership Coweta co-chairs, and the theme for the 2016-2017 program is "Get on Board the Energy Bus," which is based on the book "The Energy Bus" by Jon Gordon.
Through its unique 11-month program, Leadership Coweta prepares future community leaders by allowing them to engage in both the formal and informal exchange of ideas and experiences; enhance their personal leadership skills awareness and development; gain knowledge from an in-depth view of community issues; have access to opportunities for community involvement; understand more about the interdependencies between sectors of the local economy as well as the interrelationships of local issues; and receive knowledge on numerous subjects that prepare them for a more active leadership role in the community.
The application process for the program is governed by the Leadership Coweta Executive Team, which reviews all applications and determines finalists. Criteria considered during the process include demonstrated leadership abilities, community interest and involvement, desire to assume expanded leadership responsibility, and class representation of diverse backgrounds and experiences. This year's program runs from September to May.
For more information about Leadership Coweta, contact The Chamber at 770-253-2270 or info@newnancowetachamber.org.