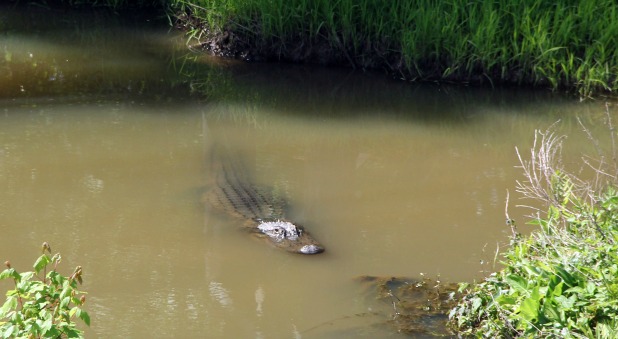 Don't miss your chance at a hunt like no other.
Quota applications must be received by July 31 if you want a chance at hunting a Georgia gator.
According to the Georgia Department of Natural Resources' Wildlife Resources Division, 1,000 applicants will be selected for the 2016 alligator hunting season which begins Aug. 19 at sunset and ends Oct. 3 at sunrise.
In 2015, a total of 325 alligators were harvested with an average length of 8 feet, 6 inches. The longest gator measured 14 feet, 1 inch.
"We fully expect to have 10,000 or more applications submitted for the 1,000 permits available," said John Bowers, chief of the Game Management Section. "Alligator hunting is quite the opportunity and I encourage all Georgia hunters to consider submitting an application for this amazing resource."
In Georgia, alligators typically live south of the fall line (which roughly traverses the cities of Columbus, Macon and Augusta), occupying a variety of natural wetland habitats including marshes, swamps, rivers, farm ponds and lakes. Opportunistic carnivores, turtles and fish are their most common food, but they also eat small mammals, aquatic insects, crayfish, frogs, and water birds.
To apply, go to www.gohuntgeorgia.com/hunting/quota. The quota hunt system allows applicants to sign up for a chance at a quota hunt using their existing license purchase account. Those applying should be sure to keep their email and mailing addresses current in order to receive quota updates, confirmations and any notices about quota hunts.
Applicants can check their application status through their account after the July 31 deadline. Selected hunters will receive a temporary harvest tag and information packet by mail in early August.
For more information, visit www.georgiawildlife.com/Hunting/Alligator.