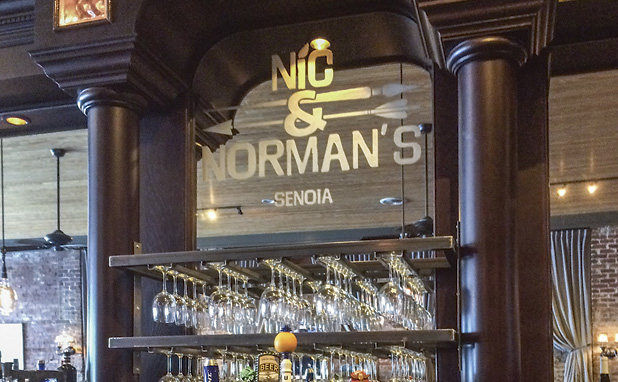 The newest visitor from Hollywood met the Old South Tuesday, and the results look promising.
"Nic and Norman's," a restaurant brought to you by two of the big names in AMC's biggest show, "The Walking Dead," flung open its doors Tuesday afternoon on Main Street in Senoia.
While it's never good to review a restaurant on opening day, the interest in the restaurant is so keen, The Citizen is providing its readers a "first look."
The restaurant started out as Founders, then was transformed into Zac Brown's eatery. One of the key components of the restaurant, the cool gigantic classic wooden bar with mirrors, was left intact. The restaurant has been repainted and features the show's star, Norman Reedus, photography.
On Tuesday afternoon, the building was packed and featured a unique mix of local Senoia folks and star-struck walkers hoping to get a glance of a cast members from "The Walking Dead."
Opening-day glitches were common, such as running out of food items, and long waits for food, but those can be fixed quickly as the staff gains its sea legs and gets ready for a tsunami of visitors this summer.
I found a seat at the bar, and talked to several people who were checking out the city's newest eatery. The consensus seemed to be all the food was good, and it would be welcomed with open arms by the city.
The menu is diverse and features a variety of appetizers, salads, grilled flatbreads, chicken, steak and pasta.
The signature item on the menu is a variety of burgers, from a traditional burger to an ahi tuna burger.
The beef burger is a mixture of top-shelf meats, including brisket, and features a variety of buns, including an un-bun, which is a lettuce wrap.
My burger was exceptional, and I also heard raves about the crab cake appetizer, along with the steak and the pot pie.
Drink prices are low, and rumor has it the restaurant will offer screenings of the show this fall when the next season premiers. On opening day, the restaurant was a mix of millennials, fans of the show and locals. Tattoos were plentiful, along with different shades of hair color which fits into Senoia's image as one of the hippest cities on the southside of Atlanta. That last sentence was something I never thought I would be writing.
I first saw Senoia in 1981, when there was nothing hip and your only dining option was the Pineview Grill. Thanks to visionaries such as Scott Tigchelaar and Riverwood Studios, along with a willing city government that wanted the improve downtown, Senoia is now a tourist destination. "Nic and Norman's" is a perfect addition to the scene, and will only get better with time. This restaurant is far from "Walking Dead on Arrival." Instead, it's another superb addition to the fascinating makeover of a small Southern town. Y'all come, you hear?