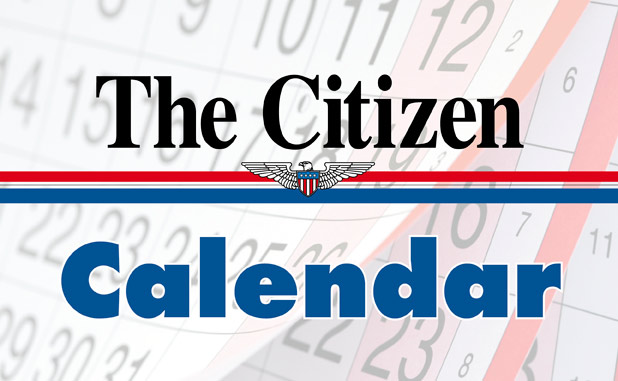 May
May 25
Fayette Senior Services will recognize National Senior Health & Fitness Day with a program today from 10 a.m.-2 p.m. at its Fayetteville location (The Life Enrichment Center, 4 Center Drive).
National Senior Health & Fitness Day is a nationally recognized day for older adults, this year marking the 23rd one. It is held annually in May during Older Americans Month. The day's goals are to promote the importance of overall health and wellness among older adults. This event will showcase local businesses as they present and offer products and services to improve your overall health as you age well and live well. Join us at our host site at Fayette Senior Services.
This program is free but pre-registration is required at 770-461-0813 or email register@fayss.org (include name, phone number and event title). FSS members and non-members welcome. For more information visit www.fayss.org.
May 27
Fayette Senior Services will host a special program "In Honor of Memorial Day" today from 2:30-4 p.m. at its Fayetteville location (The Life Enrichment Center, 4 Center Drive).
Everyone is invited to come out and honor those that have been lost. Memorial Day is a day of remembering and honoring the men and women who have lost their lives while serving in the United States Armed Forces. Enjoy a patriotic and informational afternoon listening to beautiful music, personal stories from people honoring and sharing stories of their lost loved ones, and in sending a warm welcome to all who have served. This program is free but pre-registration is required at 770-461-0813 or email register@fayss.org (include name, phone number and event title). FSS members and non-members welcome. For more information visit www.fayss.org.
May 28
The Coweta Community Foundation will host the Saturday Down South Sporting Clays and Southern Supper today from 12:30-10 p.m. at Blalock Lakes Sporting Club. The Sporting Clays portion of the day begins with lunch at 12:30. Participants and guests are welcome for a hunter casual evening of awards, a Southern supper, auction and music beginning at 5:30 p.m. To purchase tickets or sponsorships or to register teams online, visit www.cowetafoundation.org or call 770-253-1833 or email info@cowetafoundation.org.
The Coweta Community Foundation is a publicly supported 501(c)3 organization that helps focus local philanthropy on the community's changing needs. The Foundation manages individual gifts and bequests as an endowed pool of assets, distributing grants to a wide variety of organizations that enhance and support the quality of life in Coweta County, while maintaining the charitable intent of the donors. For more information, call the Foundation at 770-253-1833.
May 30
The Memorial Day Ceremony at the Fayetteville City Cemetery begins at 11 a.m. Traditional Memorial Day observance among the graves of military veterans, marked with American flags, buried there. Guest speakers: Georgia State Senator Marty Harbin, Fayetteville Mayor Edward Johnson, and B/Gen Peter Madsen, retired. Patriotic music, American Flags, musket firing, The public is invited. Bring lawn chairs. Parking at nearby Board of Education, 210 Stonewall Avenue, Fayetteville. Sponsored by Fayette County Post 105, The American Legion. http://americanlegionpost105ga.org/
June
June 4
The Southern Crescent Storytellers, a cluster group of the Southern Order of Storytellers, will present Father Goose Brigade Storytelling for all ages from 2-4 p.m. at the Peachtree City Public Library, in the Children's Library on the main level.
Take Father's Day photos with Father Goose, Mother Goose, and Puppy Goose Fletcher. Photo opportunities will be available starting at 1:30. Admission is free, as are refreshments and a raffle drawing.Members of the community and professional storytellers will be telling tales.For further information about Southern Crescent Storytellers and events at the Peachtree City Library, please visit their Facebook pages (Southern Crescent Storytellers, Georgia Storytelling Events) or www.PeachtreeCityLibraryFriends.org.
The Southern Conservation Trust will be hosting the fourth annual National Trail Day event today at The Ridge Nature Area to maintain this newly established public multi-purpose trail system. The event will begin at 8 a.m. and continue until noon. Volunteers should gather at the Trailhead Kiosk on The Ridge at the South end of Burch Road in Fayetteville.
This year, volunteers will have the opportunity to assist in trail maintenance while hiking, mountain biking, or trail running the 5.6 miles of established trails. Volunteer service activities will include work on the nature area entrance, picnic areas and geocache programs. Outdoor ethics materials from Tread Lightly! and Leave No Trace will also be available to view. This Fayetteville community nature area is now scheduled for full public opening in July. It is a 308-acre hardwood forest and wetland habitat located on a ridgeline between the Whitewater Creek and Ginger Bread Creek.
Volunteers should bring their own trail tools such as rakes, shovels, handsaws, chain saws, eye protection, and gloves. Please wear suitable clothing and shoes and be prepared for sun and biting bugs. Drinking water will be provided. More information is available at www.facebook.com/TheRidgeNatureArea or www.sctlandtrust.org.
June 11
The time is approaching for the annual Old Courthouse 5k, presented by The Georgia Civitan Foundation and the Fayette County Civitan Club. For over 23 years, runners from all over the Atlanta metro area and beyond have come to Fayetteville to spend their Saturday mornings to enjoy the fun, the exercise, the fellowship and the opportunity to help those that can't help themselves by participating in the Old Courthouse 5K. The Fayette County Civitan Club is putting on this year's 5K run.The run will begin at 8 a.m., at the Fayette County Senior Services Center located at the Fayette County Justice Center, 4 Center Drive in Fayetteville. Proceeds from the 5K run will aid organizations serving medically fragile citizens of our community, such as the Joseph Sams School, ExceptionalOPS, Fayette County Special Olympics, and Southwest Christian Care (Hospice, Hope House, Senior Care, and Spiritual Care). The run is an open race to all runners of all kinds, who desire exercise and fun, while helping great community organizations and the special needs children of Fayette County. As always, there will be the fantastic door prizes, refreshments and the great "Old Court House 5K" t-shirts for all registered participants. Day of race registration will open at 7 a.m. in front of the Fayette Senior Services bldg. Now that early registration has begun, you can pre-register on-line at:
http://www.active.com/fayetteville-ga/running/distance-running-races/24th-annual-old-courthouse-5k-2016. For questions you may have, please feel free to contact event director Darryl Douglass @ 678.362.4000 or by e-Mail, darrylwd@us.ibm.com.