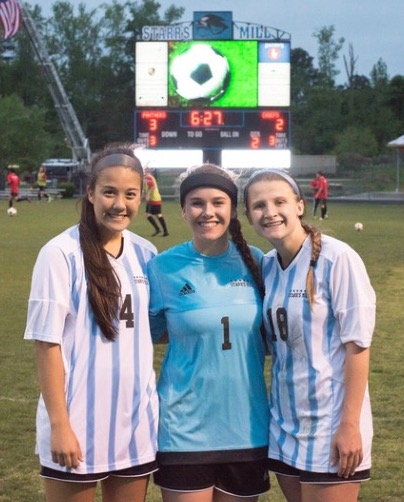 Fayette teams swept the top honors for Region 4-AAAAA soccer as voted by the region's coaches.
Riley Clark of Starr's Mill was named Player of the Year for Region 4-AAAAA in girls soccer, and the Lady Panthers' John Bowen was named Coach of the Year.
Player of the Year honors for the boys were shared by Jake Donaldson and Takumi Suzuki, both of McIntosh. Coach of the Year went to the Chiefs' Bunky Colvin.
Clark was joined on the girls' All-Region team by Starr's Mill teammates Dylan Patterson and Ashlyn Walloch. They are pictured above.
McIntosh placed four players on the squad: Taylor Butler, Chandler Witucki, Abby Ott and Taylor Malasek.
Rounding out the team was one player each from Union Grove and Dutchtown along with three from Northgate: Bailey Swindell, Cara Rhoad and Lily Barron.
The boys' All-Region team included four McIntosh players: Donaldson, Suzuki, Michael Zwach and Luke Mohney. Representing Starr's Mill were Michael Lantz and Jack VanNimwegen. Northgate players were Jamie Skalaki and Jacky Cheng. The squad included two players each from Union Grove and Luella.