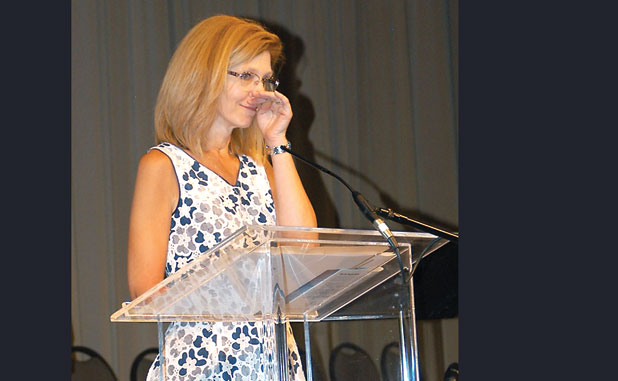 Suzette Weinhardt is the 2016 Fayette County Teacher of the Year, as announced by system Superintendent Dr. Joseph Barrow.
Weinhardt, a math teacher at Sandy Creek High, was one of three finalists chosen from 26 school-level teachers of the year who were vying for the honor.
The two runners-up are Carol Gibby, a language arts teacher at Flat Rock Middle, and Laura Crews, a fourth grade math and science teacher at Inman Elementary.
Weinhardt will represent Fayette County next year in the Georgia Teacher of the Year competition. The 10 finalists for the state will be announced sometime between late March and early April 2017.
Weinhardt thanked her family, friends, and Sandy Creek High faculty and staff for always supporting and encouraging her. She also thanked her students, whom she called "awesome" and "inspiring."
"It would be impossible to be here today without my awesome students. They truly are the reason we all do what we do. I am not sure how it works out that I get the best, but each year, my students strive to give me all that they have. When your students do that, how can you give them anything less than your all? And luckily, I always end up with students who inspire me and allow me to inspire them. I must say that together we make a pretty great team," said Weinhardt.
Weinhardt told fellow educators in the audience that they are beacons for their students, but also for their communities, and that teachers set the bar as examples of citizenship and the importance of education. She called educators a "light shining for others."
"I am just so honored to be chosen to represent Fayette County. I will do my very best to be deserving, and represent you well. It takes more than a few to make a great school, and it takes a plethora of determined people to create an awesome school district like Fayette County. Representing the best system in the state is a privilege I will not take lightly. You have put your faith in me, and I will not let you down," Weinhardt said as she ended her acceptance speech.
The Fayette County Teacher of the Year celebration is fully funded by private donations from businesses and organizations. The donations pay for the cost of the celebration, as well as fund gifts for the honored teachers.
Each school-level teacher of the year received a $100 check from the Fayette County Education Foundation, and a commemorative plaque from Coca-Cola.
Weinhardt and the two runners-up, Carol Gibby and Laura Crews, received checks from Allan Vigil Ford. Mike Vigil presented Weinhardt with a $1,000 check as the county's winner; Gibby and Crews each received a $500 check.
Additionally, Weinhardt received a special Fayette County Teacher of the Year ring from Balfour, and a commemorative plaque from Kappa Kappa Iota Lambda State, a teacher sorority, and a $100 check from Delta Kappa Gamma, also a teacher sorority.