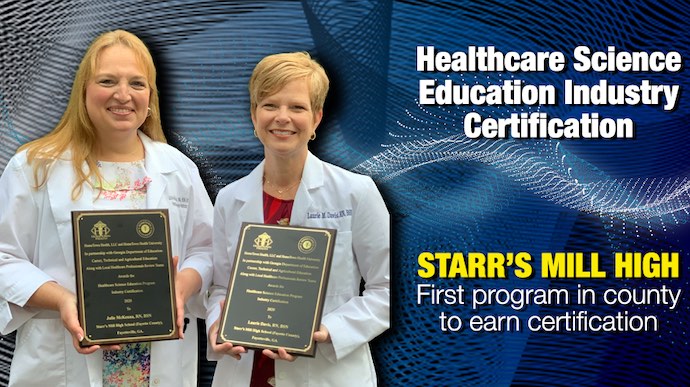 Starr's Mill High School has earned the distinction of becoming the first in the school system to earn an industry certification for its healthcare science program.
"The healthcare science program at Starr's Mill High has made history by becoming the first in the school system to earn industry certification through the Georgia Department of Education," said school system spokesperson Melinda Berry-Dreisbach. "Only those programs that have successfully undergone rigorous reviews by leaders from business and industry are recognized with industry certification."
Programs are typically certified for a period of five years. During that time, the school conducts an annual review to ensure that the program continues to meet certification criteria. At the end of the certification period, programs must reapply for re-certification, Berry-Dreisbach said.
"Starr's Mill High teachers Julie McKenna and Laurie Davis led the charge in pursuing the Healthcare Science Education Industry Certification for the school," said Berry-Dreisbach. "They endured a rigorous challenging process in order to validate the program and better prepare their students for future careers in healthcare."
Berry-Dreisbach said the award of distinction was provided by the healthcare professional industry review team as they reviewed supporting documents over the period of March 26 – May 1. Due to this year's unique situation caused by COVID-19, the teachers had to complete their review electronically.
The review team validates that the program and teachers are meeting the high standards needed to be identified as an industry certified healthcare science program, Berry-Dreisbach said.
Programs identified as industry certified are those that include actively involved advisory committees, project-based instruction, career development activities, facilities large enough to allow for active learning and competency development, up-to-date technologies and equipment, dedicated teachers through professional development, an active student organization and quality healthcare education as approved by the healthcare industry and Georgia Department of Education.
McKenna and Davis received a $10,000 grant from the Georgia Department of Education in 2019 to pursue the certification. Both teachers received plaques commemorating their accomplishment and were honored during a virtual celebration earlier this year.