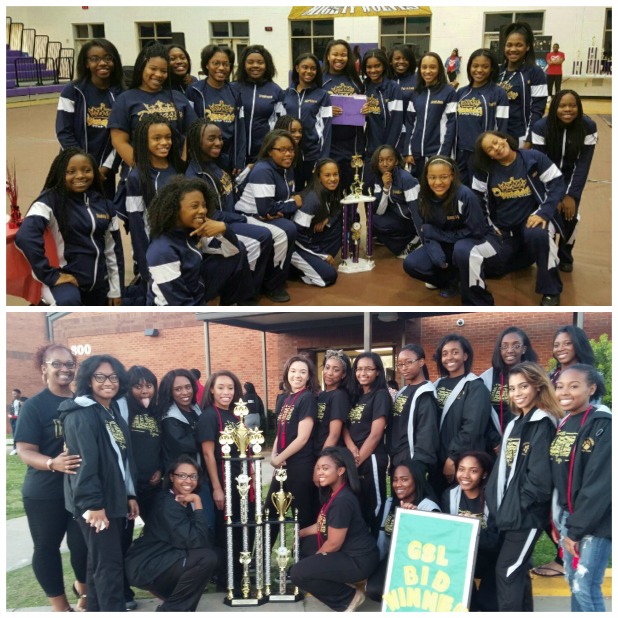 Step teams at Fayette County High and Bennett's Mill Middle scored top placements at the 2016 Georgia Steppers League State Championships with the team from Fayette County High winning their division and advancing to the national championship where they also finished at the top.
The Fayette County High Majestic Tigers placed first in the High School Girls Division at the state competition, and claimed the title of State Grand Champion, scoring 106 out of a possible 100 points, making them the highest scoring team across all divisions.
The team's victories at the state level advanced them to the National Steppers Association National Championship in Memphis, Tenn., where they placed second in the nation in the High School Girls Division.
The team members are Asia Ridley (captain), Aana Hampton-Ashford (squad leader), Dasia Danzey (squad Leader), Janya Ali, Patricia Banks, Heaven Boyd, Takeyah Bynum, Taliya Carter, Kennedi Jackson, Kaylah Jett, Kierra Kemp, Whitney Lott, Jacquia Lyles, Courtney Malone, Jaida Olverson, Destiny Vasrani, and Hasha Webb. Enrique Blake is the team coach, and Sherese Floyd is the assistant coach.
"These girls have worked very hard all season long to get here, they are to be congratulated on these monumental victories," said Blake.
The Bennett's Mill Middle Dynasty Step Team also had a very successful competition season with six first-place wins, four second-place wins, and a Grand Champion victory where they were the highest scoring team of all divisions, including high school teams. The Dynasty Step Team also competed at the Georgia Steppers League State Championships where they took second place in the Middle School Girls Division.
The team members are Zaria Lyles, Sydne Peltier, Katelyn Edwards, Samantha Young, Treasure Smith, Taylor Davis, Vernisha Piggot, Alisa Rives, Mikayla Gilbert, Marionah Snowden, Jordan Brady, Hallel Pearson, Lunden Birago, Starr Henry, Courtney Evans, Mia Moore, Adeidra Wright, Danyel Davis, Lanique Brown, Angel Holliday, Mya Thompson, Shaleem Mason, Harley Effiom, Janae Bonaparte, and Makyla Smith. Lenzie Lucas is the team's coach.
Participating in step team programs helps students develop their full individual potential; relate to others with increasing understanding, skill, and respect; develop values to guide their actions; and provide the foundation for sound decision making. Students develop qualities that will serve them all their lives, such as skills as performers, choreographers, leaders, and team members while promoting healthy living through exercise and healthy eating choices.