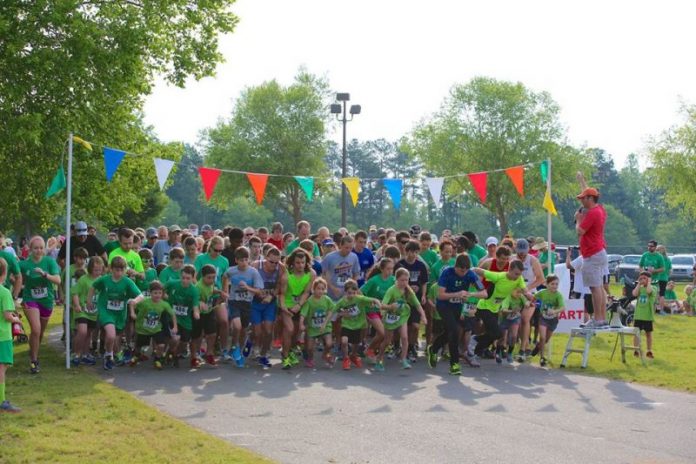 What would happen if communities rallied around families that are adopting? That's what's taking place in Coweta, Fayette and surrounding counties with RACE for the Orphans, an annual 5K that helps local families raise money to bring their adopted children home.
Hundreds of people will kick off their Mother's Day weekend by participating in the fourth annual RACE for the Orphans 5K Saturday, May 7, at the Coweta County Fairgrounds. The ongoing mission of RACE for the Orphans is Raising Awareness, Compassion and Education about the needs of the 150 million orphans around the world.
Jason and Kelly Preston of Newnan organized the first RACE for the Orphans 5K in 2013 when they were in the process of adopting their daughter from China. The event was so successful that they felt God leading them to make the RACE an annual event to help other families raise funds to adopt, funds which often exceed $30,000.
The Prestons' daughter from China, Jenna, was two-and-a-half years old when they adopted her but she is now a five-year-old thriving girl that loves participating in the RACE each year with hundreds of other runners and walkers, including her older siblings Nathan (11), Shelby (9), and Andrew (7).
"Our passion for running and adoption comes to life each year when we see the community come out to run and walk in support of children needing forever families," said Kelly Preston.
More than 375 people ran and walked at the 2014 race where RACE grant recipients were Daniel and Sherri Ausbun of Moreland who adopted their daughter, Esther, from China; and Drew and Ashley Karschner, formerly of Sharpsburg, who are still waiting for their son from Ethiopia to come home.
In 2015, more than 450 runners and walkers participated to help raise funds for RACE grant recipients were Mark and Tiffany Jordan of Sharpsburg who adopted their daughter, Mia, from China; and Wade and Brooke Williams of Fayetteville who adopted their daughter, Olive, in a domestic adoption from Florida.
"The event was totally overwhelming," said Mark Jordan of the outpouring of community support.
The 2016 RACE grant recipients will be announced the first week of April.
In addition to the 5K race, there is a 1 Mile Fun Run, as well as a Tot Trot for the youngest participants. New this year will be a Kid's FunZone provided by First Baptist Church of Newnan so children can be entertained in a safe environment while parents enjoy running or walking.
"We are also very excited to have John Waller with us again this year to sing," said Preston. Waller, a Fayetteville resident, is a contemporary Christian artist that has several adopted children.
The Prestons hope to exceed 500 participants in this year's race.
Go to www.racefortheorphans.org to register to run or walk.