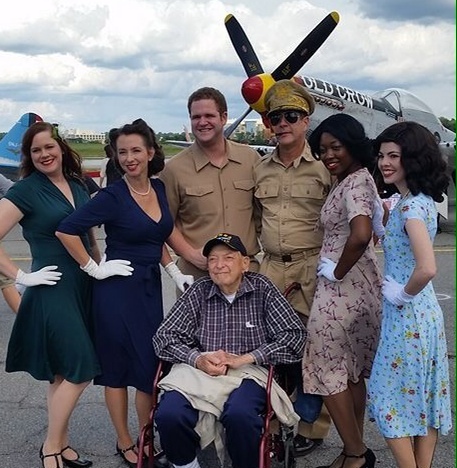 World War II wartime phrases such as "Remember Pearl Harbor!", Rosie the Riveter, Victory Gardens and Big Bands will come to life when the Commemorative Air Force (CAF) Dixie Wing hosts the 13th Annual "WWII Heritage Days April 30-May 1 from 9 a.m.-4 p.m. at the Dixie Wing Historical Airpower Facility, Atlanta Regional Airport-Falcon Field, and will bring together vintage vehicles and aircraft, World War II veterans, guest speakers and reenactors from throughout the southeast to pay tribute to The Greatest Generation, the men and women who won the Second World War.
Local actors are invited to participate by portraying famous personalities or performing theatrical vignettes. Key roles include President Franklin D. Roosevelt, Winston Churchill Gen. George Patton and Hollywood stars of the era, such Humphrey Bogart, Clark Gable, Bette Davis or Joan Crawford. History organizations and schools are encouraged to create and display educational exhibits about the experience of families at home during World War II.
WWII Heritage Days is a community celebration that promotes historic preservation, education and citizenship. Highlights include displays and flights of historic World War II aircraft, vintage cars and military vehicles, reenacted skirmishes between Allied and Axis troops and "Keep 'em Flying", a 1940s-theme hangar dinner dance. Educational presentations will be conducted throughout the weekend and meals will be available for purchase at an army mess tent.
"Keep 'em Flying" will feature a catered dinner, 21-piece big band and Andrews Sisters-style canteen show Saturday, April 30, from 6-11 p.m.
"WWII Heritage Days has previously focused on aviation and military aspects of the Second World War" said Scott Paul, WWII Heritage Days Co-Chair. "However, we believe we can also help the public connect with their heritage by expanding our Home Front interpretations and incorporating the talents of actors to help us depict the 1940s."
Actors and groups interested in participating can register on the event website.
Suggested donations for WWII Heritage Days are $10 for adults 17 and older and $5 for children 11-17. Children 10 and under, World War II veterans, and active duty military in uniform are admitted free.
WWII Heritage Days will take place rain or shine. Please no pets.
Tickets for "Keep 'em Flying" are $55 before April 25, $65 at the door. Reserved tables and group discounts are available. All ticket sales are final.
For more information, visit www.wwiidays.org or call 678-364-1110.
The CAF Dixie Wing is a non-profit education organization that relies on donations and fundraisers to restore WWII aircraft and teach WWII history. The Commemorative Air Force is a non-profit organization dedicated to flying and restoring World War II aircraft. Based in Dallas, Texas, the organization has more than 13,000 members and operates a fleet of more than 162 World War II aircraft.
More information can be found at www.commemorativeairforce.org.