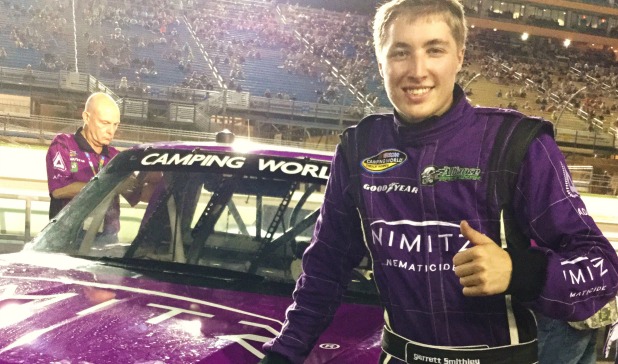 Peachtree City native Garrett Smithley is driving not one, but two NASCAR races this Saturday at the Atlanta Motor Speedway, where his racing career began in 2007.
Smithley recently announced a deal to run the 2016 NASCAR Xfinity Series for JD Motorsports with Gary Keller, based in Gaffney, SC in their No. 0 Chevy Camaro. The 23-year old made his NASCAR Xfinity Series debut at Homestead-Miami (Fla.) Speedway in the final race of the 2015 season in a car owned and prepared by 1990 Daytona 500 winner Derrike Cope.
In addition to driving in the Xfinity Heads Up Georgia 250, Smithley will pull double-duty in the NASCAR Camping World Truck Series behind the wheel of the Mittler Brothers Motorsports (MBM) #63 Chevy Silverado for the Great Clips 200, scheduled to start after the conclusion of the Xfinity race. Smithley's truck series debut was exactly one year ago at AMS with MBM, finishing in 18th place. His strong finish in Atlanta led to further opportunities at Pocono and Michigan, with 16th and 14th place finishes respectively, culminating at Homestead-Miami Speedway in November, all in Mittler trucks.
"It's definitely going to be a very busy Saturday at AMS," Smithley said. "Qualifying for both races will start early Saturday morning and then I'll be going immediately to a Q & A at the NASCAR Fan Zone out at the front of the track at noon and I have to hustle back to the pits for opening ceremonies for the Xfinity race!"
Then 250 miles later, Smithley will have just a short break prior to the start of the 200 mile Camping World Truck race that will conclude about 7 p.m.
Smithley began his racing career in 2007, driving Bandolero cars on various short tracks in Georgia and he was awarded Rookie of the Year honors at Atlanta Motor Speedway competing on the quarter-mile oval. His natural talent and abilities led to wins in multiple races, and he quickly progressed to the ultra-competitive U.S. Legend Car Series, where he won four championships.
"I'm so excited to kick off this season in both the Xfinity and Camping World Truck Series, where it all started at my home track," he said. "Just a few years ago, the thought of racing in NASCAR was just a dream, and now after a successful 2015 debut season in the Camping World Truck Series, I was offered the chance to climb another big step up the racing ladder. This opportunity with JD Motorsports with Gary Keller in the Xfinity Series is incredible and was completely unexpected when I got the call just a few short weeks ago."
JD Motorsports with Gary Keller is a three-car team competing in the NASCAR Xfinity Series. Johnny Davis, CEO & general manager, has been involved in NASCAR competition for more than 27 years and launched his own team in 2002. The team operates full-time in the Xfinity Series with Ryan Preece in the No. 01 and Ross Chastain in the No. 4 in addition to Smithley, who will drive the No. 0 for the bulk of the races throughout the 2016 season.
"One of the many things that I have always enjoyed during my time as a team owner has been giving young drivers a shot at this great sport," Davis said. "Garrett has a lot of talent, and I've been very impressed by what he's done in the past. I think this relationship will be beneficial to all of us."
After this weekend Smithley will compete at Las Vegas and Phoenix, with further races to be announced as the season progresses. He will also be competing for the 2016 NASCAR Xfinity Series Sunoco Rookie of the Year award.
"I absolutely have to thank my primary sponsors and partners, Instalco, Prince Aviation Leasing and Southern Parts & Equipment, " Smithley said, "without their partnership we couldn't have done this."
The Heads Up Georgia 250 Xfinity Series race will be broadcast Saturday, Feb. 27, at 1:30 p.m. on Fox Sports 1, immediately followed by the Great Clips 200 Camping World Truck Series race at 4:30. Garrett Smithley is a graduate of McIntosh High School in Peachtree City and now resides in Kannapolis, N.C., working as a lead instructor for the Richard Petty Driving Experience.
For more information about Smithley, visit his website at www.garrettsmithley.com, follow him on Twitter @GarrettSmithley and "like" him on Facebook at https://www.facebook.com/GarrettSmithleyRacing.