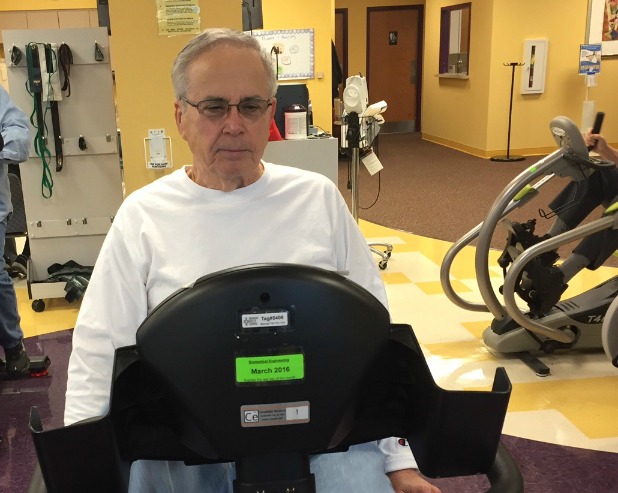 People tend to view a heart attack or heart disease as evidence that their life is over. The nurses and exercise physiologists in Piedmont Fayette Hospital's cardiac rehabilitation program unequivocally state that nothing could be further from the truth.
"The biggest misconception with heart disease is that, after a heart attack or heart surgery, you can't fight back," said Cory Wassom, supervisor of cardiac rehab. "We've seen people change their lifestyle and lose weight, lower their dosage of diabetes medications, improve their heart function and much more. People make positive strides with their heart health here every day."
The room looks just like any other gym, with treadmills, rowing machines, stationary bikes and more. Perhaps the only difference is that the people using the equipment are hooked up to equipment that allows the staff to monitor their vital statistics. In addition to the exercise, the participants also receive education from doctors, dietitians, nutritionists and more. A physician referral is required for the cardiac rehabilitation program and many participants continue to see results many years down the line.
"I had four bypasses in September 2012. I started doing the cardiac rehabilitation program here in January 2013 and my doctor says I could be the poster boy for this program, so he keeps authorizing me to stick with it every year," said Tyrone resident, and former mayor, Don Rehwaldt. "My wife says I'm in the best shape I've ever been in. I've lost 40 pounds and I feel great."
A popular phrase in healthcare today is "mobility is medicine." The cardiac rehabilitation program at Piedmont Fayette aims to get and keep people moving to manage or reduce their risk factors for cardiovascular disease.
"We see people embrace being heart healthy, make exercise a part of their daily routine and watch as they discover abilities," said Russ Starrett, RN. "I always tell folks that my goal for them is for them to be the oldest living heart patient."
For more information on Piedmont Fayette's cardiology services, visit www.piedmont.org/heart.