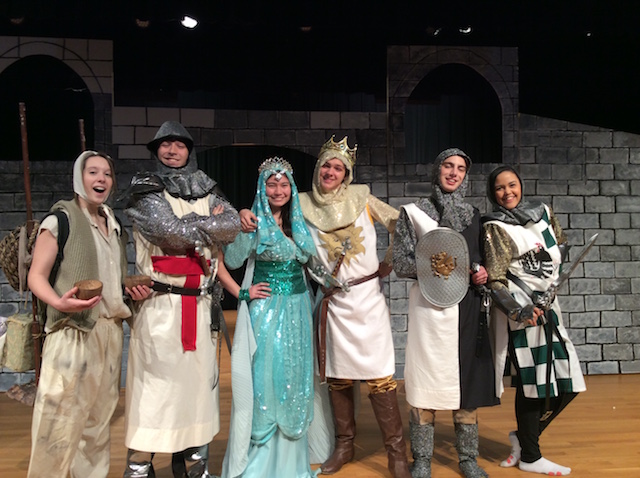 The McIntosh High School Fine Arts Department will present "Monty Python's Spamalot" Feb. 18-20 at 7 p.m.
The Tony Award-winning production retells the legend of King Arthur and his Knights of the Round Table featuring dancers, cows, killer rabbits, shrubbery and French people.
King Arthur and his able (and not so able) knights, assisted by the beautiful Lady of the Lake, go on a quest to find the Holy Grail. Along the way they meet up with politically active peasants, plague victims, rude French people, the dreaded Knights Who Say Ni!, and a surprisingly dangerous bunny rabbit.
Spamalot is "a hilarious comedy and a loving spoof of Broadway shows, featuring lavish productions numbers, bright costumes and sets, and lots of dancing," according to the producers.
"The actors have been very dedicated and have put in a lot of hard work," said assistant director and choreographer Cristina Mariano, a senior. "If you like corny jokes and laughing, you should come see the show. It's so big and over-the-top, and so entertaining. It's a show that everyone will love!"
Tickets are $8 for students and $12 for adults. They can be ordered at info@mcintoshtheater.org. For more information, visit www.mcintoshtheater.org.
Pictured are Lindy Simmons (Patsy), Christopher Greco (Sir Galahad), Amelia Traylor (Lady of the Lake), Connor Lawhead (King Arthur), Kyle Hamlin (Sir Lancelot) and Zoe Vaughan (Sir Robin).