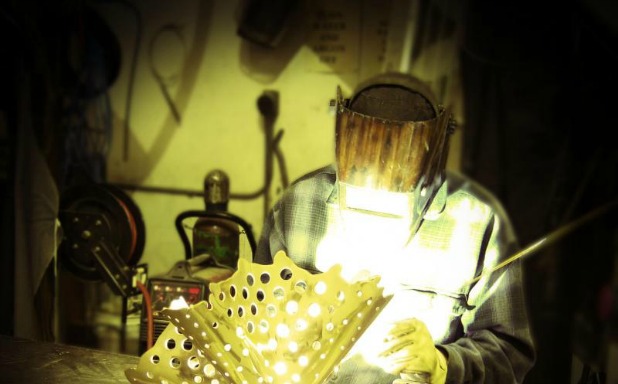 The American Craft Council Show is the Southeast's largest juried indoor craft show, bringing together over 225 of the country's best contemporary craft makers under one roof. The 3-day show, March 11-13, draws thousands of fine craft lovers and collectors who enjoy one-of-a-kind, quality crafts in jewelry, clothing, furniture and home décor, while meeting and interacting with many of the artists in person.
Selected this year, through an extensive juried process, is master metal craftsman Mike Sluder of Peachtree City. One can most likely find artist Mike Sluder in welding leathers, elbow-deep in sand or brandishing a blowtorch.
As one of the country's notable metal artists, Mike has made a name for himself by creating high-end metal art from industrial beginnings. He was formally trained in sculpture under internationally recognized artists at East Carolina University, where he earned his B.F A. in 2006. He has worked at two leading fine art bronze foundries, overseeing the Metal Shop and serving as Patina Specialist.
Mike currently creates custom art for individual collectors and corporate clients, including The Ritz-Carlton Hotel Company. Best known for his cast bronze vessels and copper wall hangings, Mike aims to strike a balance between physical power and artistic finesse in every piece he creates.
The annual show returns for its 27th year to the Cobb Galleria Center. For tickets and information, visit www.craftcouncil.org.atlanta.