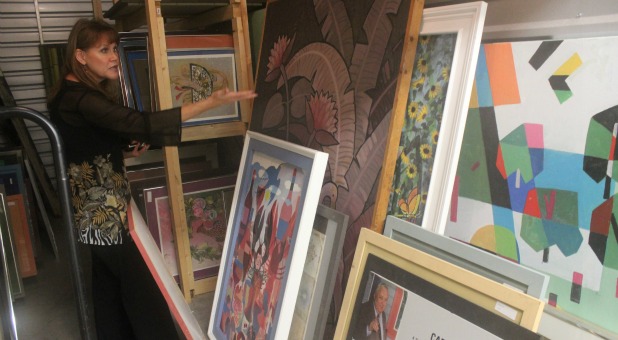 At the McRitchie-Hollis Museum is the holiday-themed art of Carl Charles Tait, a LaGrange-based artist known throughout the nation for his holiday greeting cards and handkerchiefs.
The original art work and period greeting cards, available through silent auction, will be on display at the McRitchie-Hollis Museum, 74 Jackson Street, through New Year's Day. The museum is open Tuesdays through Saturdays from 10-12 a.m. and from 1-3 p.m.
"This is a rare opportunity to own some of the original work of the prestigious and successful Tait-Henson partnership, which produced many classic greeting cards of the mid-20th century period," said Jeff Bishop, executive director of the Newnan-Coweta Historical Society.
He noted that part of the proceeds from the sales of the work will benefit the Children's Museum of NCHS.
Tait was born Nov. 2, 1917, in Old Town, ME, to the late Harry Tremain Tait and Mary Belle Madore Tait. After high school, he served in the United States Army Air Corps from 1942 to 1946. He graduated from New Hampshire School of Arts & Sciences.
Tait, who died in 2011, was a creative artist with claims to fame such as a large mural that is still proudly displayed in the Greenville/Spartanburg, SC airport, and Christmas cards distributed by American Artist's Group.
Tait even designed a line of handkerchiefs that were available exclusively through B. Altman & Company department stores. He also used his artistic talent and innovative spirit while working as an independent contractor for Milliken Corporation, where he traveled around the United States designing showrooms for product displays.
Tait's work has been displayed at the Chattahoochee Valley Art Museum and has been exhibited alongside such artists as Andrew Wyeth. He received first place in the Currier Gallery Art Show of American Artists in oil and watercolor.
"Mr. Tait's adaptation of historical styles and techniques combined with traditional Christmas images creates a blend of styles unique in the greeting card tradition," said Bishop.