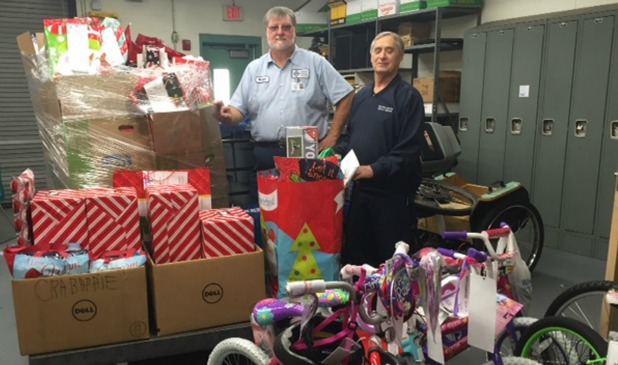 The annual Angel Tree drive, sponsored by the Fayette County Public School System's CARE (Children at Risk in Education) program, fulfils the holiday wishes of economically disadvantaged students at schools throughout the system.
The drive is organized by CARE Coordinator Karen Spangler, who oversees all aspects of the operation including collecting wishes for the tree from school counselors and gathering donations to wrapping gifts and arranging delivery to the schools.
School system employees, churches, civic organizations and local businesses participate in the program by adopting an angel from the tree, volunteering to help with gift wrapping and logistics, or both.
The school system's warehouse supervisor Ron Ross and warehouse employee Bryan Nation assisted Spangler this year with taking gifts to the schools the last week before winter break. Spangler says she is very thankful that the staff reached out to help, even though they are extremely busy.
"That they are able to do this for the Angel Tree is truly amazing. I know how busy they are, and for them to work this into an already tight schedule, it means so much to me, and to the students and their families we are helping this year," she said.
On average, the Angel Tree drive provides gifts for more than 400 students and their families each year, which include traditional items as well as basic need essentials such as toiletries, blankets, and even home repairs or tires for the family vehicle.
Requests for inclusion on the Angel Tree are thoroughly vetted by the school counselors and Spangler. At least one family member must be employed, but not earning enough money to cover all of the family's needs.
Although the Angel Tree drive is the most visible initiative of CARE, the program helps students throughout the year with expenses such as yearbook and graduation fees, extra-curricular activity costs, and after school program tuition. Donations are always accepted. For more information, contact Karen Spangler at spangler.karen@mail.fcboe.org.