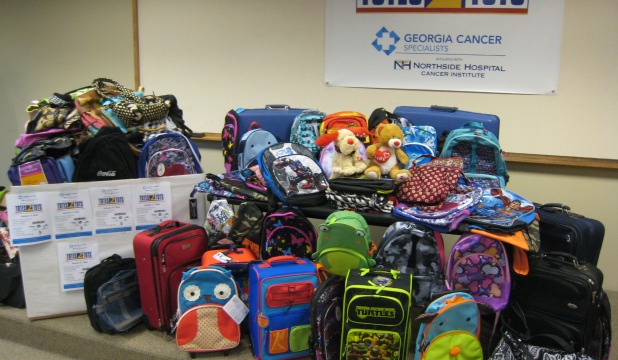 Georgia Cancer Specialists and Northside Hospital are collecting backpacks and suitcases for foster children in Georgia as part of the 14th annual totes 2 tots suitcase drive.
More than 11,600 children, from infants to teenagers, are currently in the foster care system in Georgia. Many of these children shuffle their belongings in garbage bags when they are removed from their homes. Since totes 2 tots was launched in 2003, the annual volunteer event has collected and distributed more than 41,000 bags.
totes 2 tots was originally held on Martin Luther King Day as a way to honor Dr. King's vision of philanthropy and give back to the community. The event is now held on the preceding Thursday, Friday and Saturday to kick off a weekend of service in Dr. King's honor.
Donations of new or nearly new backpacks and suitcases will be accepted Friday, Jan. 15, 10 a.m.-2 p.m. at most GCS locations including132 Old Norton Road, Suite 200, in Fayetteville.
"As the physicians and staff of Georgia Cancer Specialists, we look forward to honoring Dr. Martin Luther King's memory for the 14th consecutive year," said Dr. Cheryl Jones, M.D., vice president and chief medical officer of GCS. "Through this project, we have demonstrated our commitment to support the foster children of Georgia in achieving successful futures in the community."
GCS partners with the Georgia Division of Family and Children Services to distribute the bags in the counties in which they're collected. Bobby Cagle, director of DFCS, praised those who support the program, which helps to bring a measure of comfort and respect to Georgia's foster children.
"There are some children in our state who, unfortunately, have few constants in their lives," said Cagle. "The totes 2 tots program, by providing a piece of luggage to those children whose lives have been upended, offers a sense of stability in a time of uncertainty."
For the 11th year, totes 2 tots is receiving media support from WSB-TV's Family 2 Family Project. Family 2 Family is the longest-running locally produced, comprehensive, station-wide public service effort in Georgia. Transportation services are being provided by Courier Express.
To find a participating location near you, visit www.gacancer.com or www.facebook.com/totes2tots, or call 1-877-716-CARE (2273). Financial donations may be made securely online at give.northside.com/totes2tots. All donations are tax-deductible.