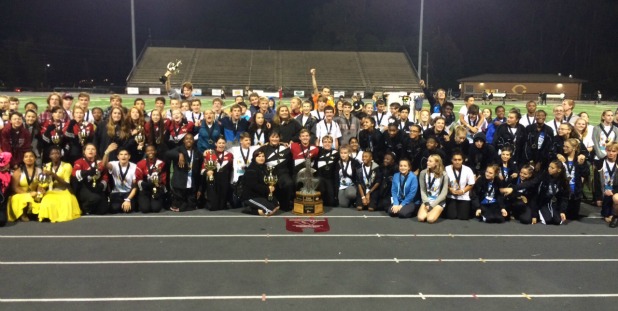 Whitewater High School's premier marching band, the Wildcat Marching Band, was crowned the grand champion at the inaugural running of the Legacy of Champions marching band competition Oct. 10 at Grisham Stadium on the campus of Carrollton High School.
The band's superior performance earned it the Legacy Sword Trophy, which was awarded to the band with the highest overall score of the day. This amazing, massive bronze trophy was designed and created by University of West Georgia alum Daniel McMillian exclusively for the Carrollton High School Band Boosters and the Legacy of Champions Marching Band Competition. It features his rendition of the legendary Sword of Troy and a traditional Greek shield that represents the honor and valor that are displayed every time a team takes the field in competition.
Whitewater High School Band is under the direction of Jack Jean and performed its 2015 competition show "Around the World" featuring the musical selections "Around the World" from the film "Around the World in 80 days," "Fanfare from La Peri" by Paul Dukas, "Bacchanale" from "Samson and Delilah" by Camille Saint-Saens, and original music by Tim Hinton.
In addition to being named Grand Champion, the band received first place for Color Guard and Band in the Open Class division. Additionally, the band was awarded the Top Brass Section of the day.
For more information about the Legacy of Champions, visit legacyofchampions.net.