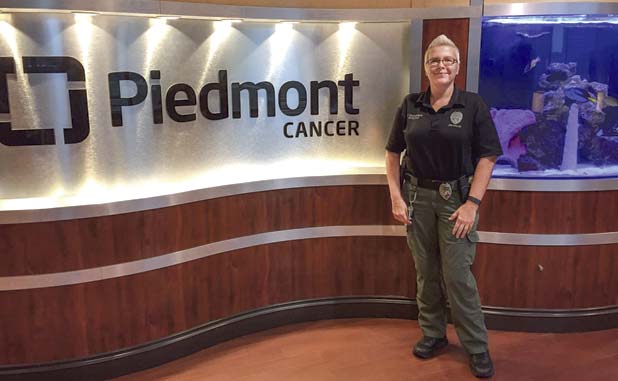 F'ville officer takes action to stop recurrence of cancer
Detective Joanna MacPherson, a member of the Fayetteville police department since 2007, says she will likely undergo a double mastectomy at Piedmont Fayette Hospital next year to beat breast cancer before it even has a chance to strike.
Last year, during a battle with stage III-C ovarian cancer, MacPherson tested positive for BRCA1, a harmful gene mutation that increases a woman's chances of developing ovarian and breast cancers. According to the National Cancer Institute, an estimated 39 percent of women who inherit the BRCA1 mutation will develop ovarian cancer by age 70. Additionally, 55-65 percent will develop breast cancer by the same age.
"I always knew a cancer diagnosis was a possibility," MacPherson said. "My grandparents had it, my parents had it and so did a few aunts and uncles. I was determined to do everything I could to avoid cancer – I exercised religiously, ate healthy and avoided bad habits. Unfortunately, you can't beat genetics."
MacPherson discovered she had ovarian cancer when, just days after she ran a half-marathon, her stomach swelled so much she thought she looked nine months pregnant. Doctors discovered the large mass was a tumor caused by ovarian cancer and scheduled surgery to remove the tumor as well as MacPherson's ovaries, uterus, appendix, part of her colon and a handful of lymph nodes.
"The first thing I learned [after my diagnosis] was that I would have benefitted from genetic counseling three or four years ago," MacPherson said. "I assumed insurance companies were against it and that it would have been cost prohibitive or had me labeled. The truth is they want you to get the counseling if you have cancer in your family background so you can take preventive measures."
After surgery, she completed chemotherapy and radiation at Piedmont Fayette under the care of Jonathan Bender, M.D.
"I dragged in lots of members of my family and they asked Dr. Bender thousands of questions. He always looked me right in the eye and gave me honest answers," MacPherson said. "I think he is one of the most amazing doctors."
MacPherson returned to active duty with the Fayetteville Police Department in May 2015. She felt well enough to run a Tough Mudder obstacle race that same month. Her determination to get back in the races and back in the gym has helped her push through her cancer journey and MacPherson hopes her story will encourage others to seek genetic counseling before symptoms appear.
To learn more about genetic counseling and how a simple test using a patient's blood or saliva can reveal whether they are at a higher risk of developing cancer, call 770-719-6096 or visit piedmont.org/cancer.
— Written by Michael Boylan of Piedmont Fayette Hospital, Special to The Citizen