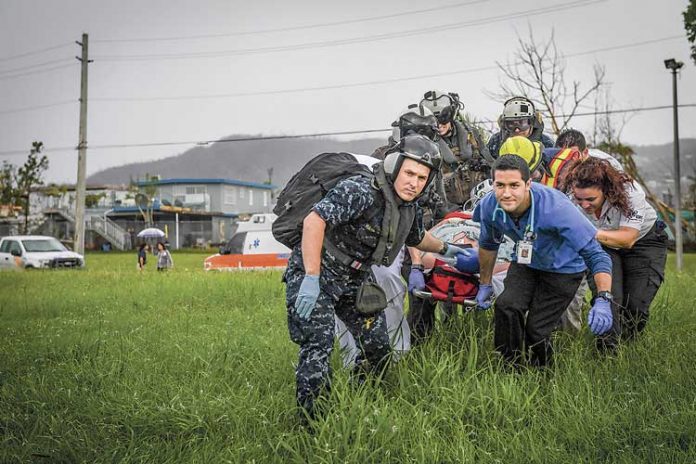 Lt. Jason Hardwick (USN), from Fayetteville, was one of five emergency medicine (EM) physician residents from Naval Medical Center Portsmouth (NMCP) to embark recently on the Military Sealift Command hospital ship USNS Comfort (T-AH 20) in support of relief efforts for those affected by Hurricane Maria in Puerto Rico, as part of their residency training.
---
Above, Lt. Jason Hardwick of Fayetteville, front left, was one of a group of emergency medicine physicians residents recently deployed to Puerto Rico to assist with relief efforts in the aftermath of Hurricane Maria. Photo/U.S. Navy.
---
USNS Comfort was to receive four staff emergency physicians from Navy Medicine East when the ship was activated. Cmdr. John Devlin, the residency program director at NMCP, and the medical director of casualty receiving aboard Comfort, presented the idea to take two staff physicians and five residents, giving more physician manpower and allowing residents hands-on learning by executing the mission, said Mass Communication Specialist 2nd Class Stephane Belcher.
The five are senior residents, who've been through four years of medical school, an internship, are in their third residency year and are only nine months away from graduating, Belcher said.
"I say it's win-win," said Devlin. "The people of Puerto Rico are getting more emergency medicine physician manpower than they would have had, had we gone with the original plan. And from the resident standpoint and the Navy's standpoint, we are getting five junior physicians that, for their entire career, will have this experience base to carry forward to apply to missions in the future."
Belcher said physicians in residency typically do not deploy.
"Here, we are coming out and doing medicine in a world that's not at our own institution in response to a natural disaster, and that opportunity just does not happen," said Lt. Cmdr. Christopher Perry, an EM resident from NMCP.
Residents from NMCP embarked on Comfort in the past for Continuing Promise 2015. They came to provide primary care and humanitarian relief ashore, said Belcher.
Belcher said physicians in residency programs, in both the military and civilian sector, already have the infrastructure of an emergency room in place for them in the hospital. They rarely get a chance to oversee what goes into setting up an emergency room until they're on the operational side, after graduating.
The five residents on Comfort configured CASREC by combining existing standard operating procedures–those for humanitarian assistance and combat-trauma mass casualty response. The mass casualty operating procedure is geared for support of combat operations during time of war, and humanitarian procedure is geared to support missions similar to Continuing Promise.
With the help of the "Sea Knights" of Helicopter Sea Combat Squadron (HSC) 22, another opportunity that's offered aboard Comfort is the chance for EM residents to personally medevac intensive care patients, with two physicians per patient treating them in the air, Belcher explained.
Comfort is currently underway operating in the vicinity of Arecibo, Puerto Rico, to provide medical services with additional visits being planned around the island. The U.S. Health and Human Services and Puerto Rico Department of Health representatives are prioritizing patients at each stop prior to Comfort's arrival. The Department of Defense is supporting the Federal Emergency Management Agency, the lead federal agency, in helping those affected by Hurricane Maria to minimize suffering and is one component of the overall whole-of-government response effort.