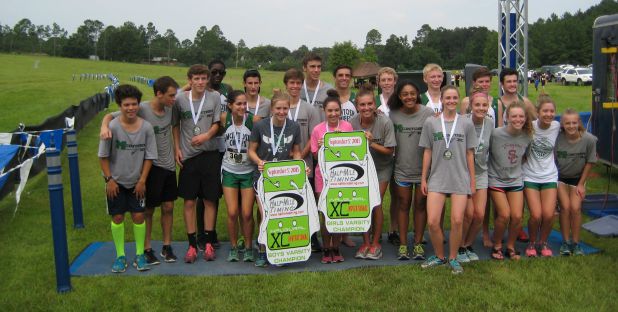 The McIntosh Chiefs cross-country team couldn't have had a better weekend than they did at the Half Mile XC Invitational in Alachua, Fla.
The team swept the meet with first-place finishes for the varsity girls, varsity boys, JV girls and JV boys.
Four varsity girls placed in the top 10: Alyssa LeClaire (20:20), Nicole Zaubi (21:20), Rachel Ward (21:23) and Lily Sullivan (21:36).
The varsity boys had the same result, with top-10 individual finishes from Connor Koscevic (17:26), Conner Reynolds (17:45), Brian Doyle (17:51) and Alan Bowers (17:55).
All five JV girls were among the top 10, led by top individual finisher Maddie Smith (24:12) and followed by Kayla Hort (24:53), Hannah Wilde (25:48), Lauren Siegel (26:14) and Cally Casterline (27:25).
A perfect team score was achieved by the JV boys, as they took all of the top five spots: Josh Bowers (18:54) (First overall), Zach Jaeger (18:54), John Karafanda (19:01), Xander Wilson (19:11) and Jackson Routon (19:50).