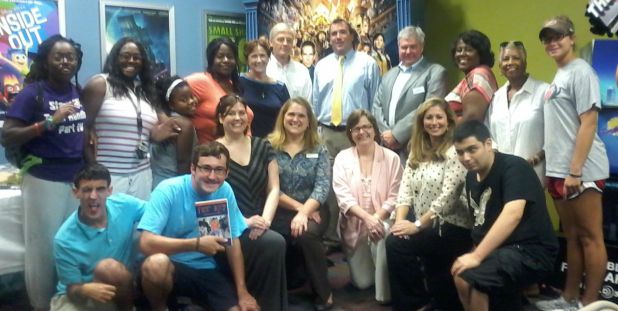 The award-winning film "The Fat Boy Chronicles" was shown July 30 at NCG Cinemas in Sharpsburg to local youth.
The movie was filmed in Coweta County and is based on the true story of a youth who was bullied in school.
Organizers said the date for showing the film was set prior to the beginning of the school year because bullying begins in earnest when school starts.
Approximately 200 youth and their parents/guardians attended the show. The luncheon after the show allowed the opportunity for individuals to discuss partnership with those who are working to address the issues caused by bullying.
"I was inspired to see all the people show up for the movie and the emotional discussion afterward," said co-producer and co-author Michael Buchanan. "I think the day will help students who might have been a bystander become a hero for someone bullied in their school. It was very special to see Coweta County Schools represented because it means they are willing to be part of the solutions that make a better tomorrow for their students."

Family Patterns Matter is working with The Centre for Performing Arts to bring the movie back for an evening show.

The current goals of Family Patterns Matter are to identify challenges faced by youth, assist them in facing those challenges through mentoring and to focus their efforts to bring awareness and counsel to issues surrounding the effects of bullying. A significant outcome of being bullied is poor school performance, which can lead to dropping out.
To find out more about Family Patterns Matter or to become a volunteer, contact familypatternsmatter@gmail.com or visit www.familypatternsmatter.org. The organization serves Fayette and Coweta counties.