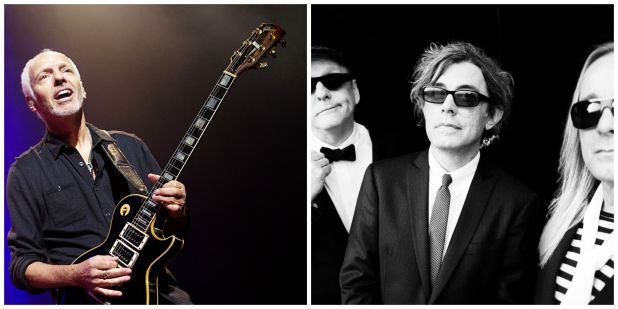 Two of the most-loved rock acts of the mid-to-late '70s will be hitting the stage at The Fred Saturday, Aug. 15.
Grammy winner Peter Frampton and Cheap Trick are touring together this summer and Peachtree City is just one of the stops on the 23-city tour. This show is the last concert in the Lexus of South Atlanta Summer Concert Series.
Frampton remains one of the most celebrated artists and guitarists in rock history. At 16, he was lead singer and guitarist for British band the Herd. At 18, he co-founded one of the first super groups, seminal rock act Humble Pie. His session work includes collaborations with such legendary artists as George Harrison, Harry Nilsson, David Bowie, Jerry Lee Lewis, Ringo Starr, John Entwistle and many others. His fifth solo album, the electrifying "Frampton Comes Alive!", is one of the top-selling live records of all time.
"I've always loved Cheap Trick and their sound. Great band, great people! We played one show together last year and had so much fun we decided to do a whole tour together," he said.
With more than 5,000 performances spanning four decades and 20 million records sold worldwide, Cheap Trick is undoubtedly one of the most influential classic rock groups of the past 50 years. The band was formed in 1974 and while it has evolved throughout the years, Cheap Trick has continued to reach mainstream and critical success. Hits such as "I Want You To Want Me," "Dream Police," and "Surrender" have cemented the group as one of America's top rock 'n' roll bands of all time.
Gates open at 7 p.m., with Cheap Trick taking the stage at 8. For more information about the show, visit www.amphitheater.org, visit the Fred Facebook Page, or call the Fred Box Office at 770-631-0630.