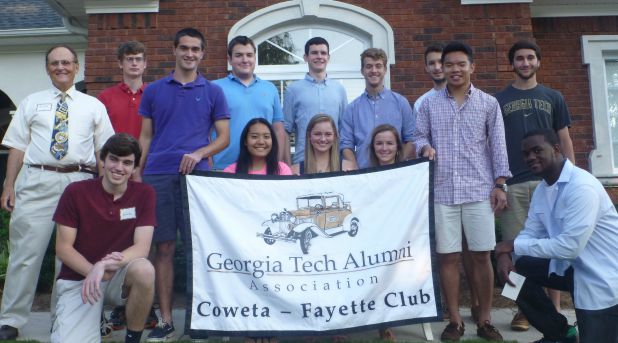 The Coweta Fayette Georgia Tech Network hosted another student send-off for freshmen, transfer students and families Aug. 1 at the home of club president Linda Henson Sorrow in Sharpsburg.
The students were welcomed with a rousing presentation of "How to Succeed at Ga. Tech" by Dean Templeton.

On the back row are retired Dean Miller Templeton, Jake Callahan, Clay McKinney, Andrew Barnhardt, Shane Donevant, Kyle Nolan and Alexander Casado. On the middle row are Caleb Tysor (holding the banner), Maria Furukawa, Ellie Klarl, Madison Hunt and Kevin Cheng (holding the banner). Kneeling in front are Caleb Hess and MJ LaGrande.