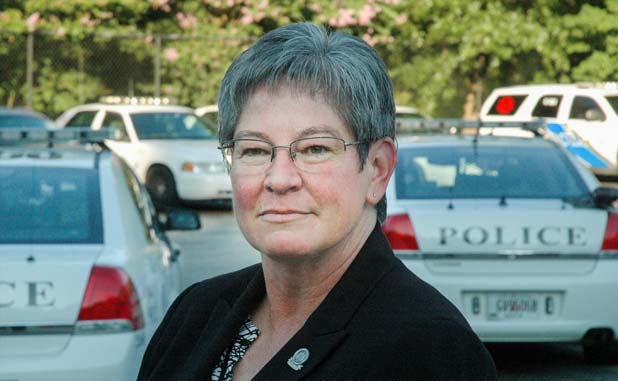 Peachtree City Police Department employees were introduced to new Peachtree City Police Chief Janet Moon at an informal ceremony held at the department on July 24. Moon starts working in Peachtree City Aug. 10.
Moon last week said her immediate intention is to get out in the community "to listen to what people think we are doing right and on how we can improve. That includes listening to police department employees."
Characterizing herself as a "servant-leader," Moon said that listening will include a time span of several months.
"I believe in community policing," said Moon. "(Community policing) is community partnership and problem-solving. Without problem-solving you have community relations."
Moon's move to the chief's job in Peachtree City will not translate into a move to the city itself. The reason for that is simple: she owns a farm in Suwanee and farm animals are not allowed in the city.
Moon is currently looking to purchase property and relocate her extended family and farm operations, including her horses, goats, dogs, cats, two donkeys and a rabbit, as close to Peachtree City as possible.
Meantime, she has secured an apartment while she searches for suitable property so she can sell the farm in Suwanee.
Until that time, Moon said she will return to the farm on the weekends unless the job keeps her in Peachtree City.
Interim City Manager Jon Rorie announced on July 2 that Moon had been selected from three finalists to serve as the city's new chief cop.
Rorie said the appointment came after a two-step process that involved an interview panel that assessed technical skills and knowledge of the applicants, followed by a panel of community representatives who assessed the top three candidates in terms of the best fit for Peachtree City.
"While we had many well-qualified candidates, members of both panels were particularly impressed with Janet's philosophy of being a 'servant leader' and her emphasis on being involved in the local community," said Rorie.
Moon comes to Peachtree City with an impressive 30-year history in law enforcement, with four years in the U.S. Army Military Police Force followed by 12 years with the Police Department of Rome, Georgia, where she rose to the rank of lieutenant.
Moon holds an Associate's Degree in Criminal Justice (suma cum laude) from Floyd College in Rome, a Bachelor's Degree in Organizational Management from Covenant College in Lookout Mountain, Georgia, and a Master's in Public Administration from Columbus State University in Columbus.