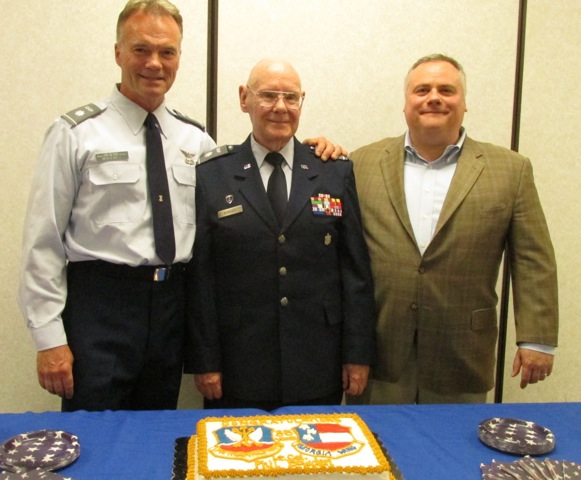 The Peachtree City Squadron of Civil Air Patrol held a celebration June 4 honoring 76-year old Lt. Col. Philip Bowden of Newnan for his 35 years of service in the all-volunteer organization.
Making remarks were Squadron Commander Lt. Col. David Mitchell of Peachtree City, Lt. Col. Brent E. Bracewell of Sharpsburg and Tony Briggs of Alpharetta, a former Civil Air Patrol Cadet and graduate of West Point ('89), followed by a congratulatory message from Astronaut Eric A. Boe in Houston as read aloud by Lt. Col. Mitchell.
"Phil is a great American and made a difference in my life and everyone else's. He is a friend, boss, leader, and just a well-rounded individual," according to Boe's statement.
Bowden expressed his thanks to the squadron members of 50 cadets and 65 senior members and wished for them "all the friendships and adventures" he had had in Civil Air Patrol.
Civil Air Patrol, the official auxiliary of the U.S. Air Force, is a nonprofit organization. CAP, in its Air Force auxiliary role, performs about 85 percent of continental U.S. inland search and rescue missions saving an average of 70 lives annually. CAP's three missions are aerospace education, cadet programs and emergency services. Visit www.capvolunteernow.com for more information.
Currently, GA-116 meets every Thursday at 6:30 p.m. at the United Methodist Church, 225 Robinson Road in Peachtree City. Ages 12 and up are welcome to join. Find out more about GA-116 at www.GA116.org or on Facebook.