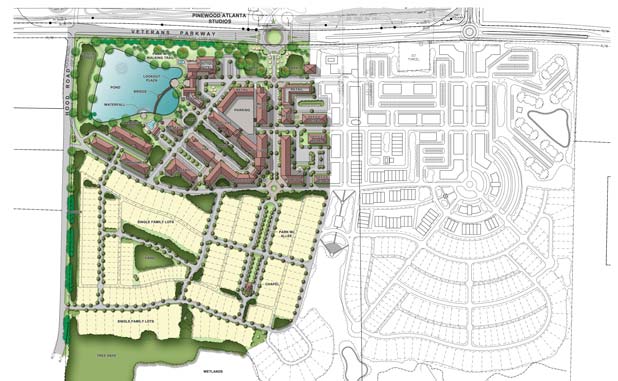 100-acre Pinewood Forrest annexation phase 1 of plan for 600 homes, 600 apartments, 2 hotels
Having received the blessing of the Planning Commission last week, the developers of Pinewood Forrest take their case to the Fayetteville City Council Thursday.
The Planning Commission voted unanimously to approve annexation for two tracts totaling nearly 100 acres that front Veteran's Parkway across from Pinewood Atlanta Studios.
If approved, the tracts would be combined with the 126 acres directly south of the property already zoned Planned Community Development and approved for a mixed-use residential community development.
"We could have Christmas carolers out there this season," said project architect Bill Foley.
The proposed development is planned to create a walkable community, connected to Fayetteville, Pinewood Atlanta Studios, and Piedmont Fayette Hospital through a proposed multi-use path system, with primary access off of Veterans Parkway.
The conceptual plans to be developed over multiple phases include 600 single family homes, 600 multi-family units, 100 townhomes, two hotels, a mix of office and retail space, several pocket parks, and a chapel.
Foley said if the city approves the development, a groundbreaking could occur in July with the initial part focusing on 70 single family homes and the main entrance into the development that leads to a chapel.
During last week's meeting, retired biologist Dennis Chase said the project could be an environmental disaster for Whitewater Creek, but Foley said Pinewood Forrest's development team has already met with the EPD and showed plans for dealing with stormwater issues and improving water quality.
The development will also feature two hotels, and also offer a destination restaurant that Foley said will serve as an ideal location for weddings and other special events. It will be next to a current pond at the intersection of Hood Road and Veterans Parkway and will be enhanced for use as a retention pond and will be outfitted with boardwalks. Plans call for a 50-foot planted buffer and berm along Hood Road.
When word first was known about the project, it was nicknamed "Seaside on steroids." Foley has worked on several projects in northwest Florida and said Pinewood Forrest is different.
"Many of those places are resorts. What we're doing here is creating a sense of place, that will hopefully lure some of the millenials to Fayetteville," he added.
The council meeting starts Thursday night at 7 p.m.