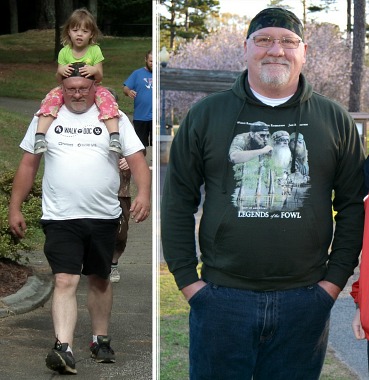 When a friend encouraged Newnan resident Terry Wood to take part in Piedmont Newnan Hospital's free monthly "Walk With a Doc" program, he decided to give it a try.
Now, four walks later, Wood has dropped 36 pounds and is aiming for 40 more."When I first started (Walk With a Doc), the thing was I wasn't into walking and I wanted to see if I could actually do it," Wood said. "It was real frustrating to say, 'Okay, you're fat. You've got to walk. You've got to get healthy but I started walking,'" Wood said. "Anybody can do this. All you've got to do is walk at your own steady pace. Nobody's rushing you or holding you back."
The walks are held the fourth Saturday of each month at Carl Miller Park on Sewell Road in Newnan. A physician leads the walks and participants can ask health-related questions along the way. This year's walks are scheduled to run through September.
For Wood, Walk With a Doc was a turning point in his commitment to lose weight. After taking part in his first walk, Wood said he quickly realized that adding a walking routine to the healthy eating plan he started would accelerate his weight loss. Wood started to visit the park three times a week and walks for an hour during each visit.
Wood said adopting a healthier lifestyle was fueled, in part, by his granddaughter.
"Well, my grandkid said, 'Papaw, let's go play.' Papaw can't play because Papaw's too fat. Well, that started the walking process," he said. "For a 54-year-old man that drove an 18-wheeler, got fat eating good Lord knows what and not exercising at all, you get out and start the little things, you start walking and you say, 'Hey, you know what? This is good.'"
Walking isn't the only healthy change Wood has adopted since taking part in Walk With a Doc. He also quit a long and life-threatening habit of smoking.
"In November, on Veterans Day my granddaughter said, 'Papaw, you stink. You smell like smoke.' Well, I had three cigarettes in my pack. I put them down. I quit smoking. It's almost six months and I feel healthier, I walk better, I walk faster now, and I think I look better," Wood said.
Wood hopes to be get to a weight of 250 pounds by the end of the year, which will be close to what he weighed when he married his wife 30 years ago. He has some advice for others who want to start living healthier.
"You don't have to eat meat for every meal or alcohol every time you get off work," Wood said. "Put your cigarettes down and say, 'You know what? Instead of smoking a cigarette, I'm gonna walk the amount of time it would take me to smoke.' If it takes you 20 minutes to smoke one, go walk for 20 minutes. See what happens."
Piedmont Newnan Hospital's next Walk With a Doc will take place on Saturday, April 25, in Carl Miller Park. Renowned orthopedic surgeon Dr. Jeremy Statton, M.D., of OrthoAtlanta will lead the walk.
Walkers are encouraged to gather at the park by 8:15 a.m. as the walk begins promptly at 8:30 a.m. Statton will take five minutes to talk about joint health and orthopaedics before leading the walk while he answers questions from participants.
Participants will receive a pedometer to help them keep track of the number of steps taken, as well as a choice of a free t-shirt or water bottle. While the event is free, registration is required by calling 877-527-3712 or visiting piedmont.org/walkwithadoc. Registration will also be available on site starting at 8 a.m.
Piedmont launched Walk With a Doc after their health needs assessment showed that one in four adults in Coweta County is physically inactive and nearly one in three is considered obese. The walks not only encourage physical fitness, but they give participants one-on-one time with a physician. The walks will be held the fourth Saturday of each month through September.