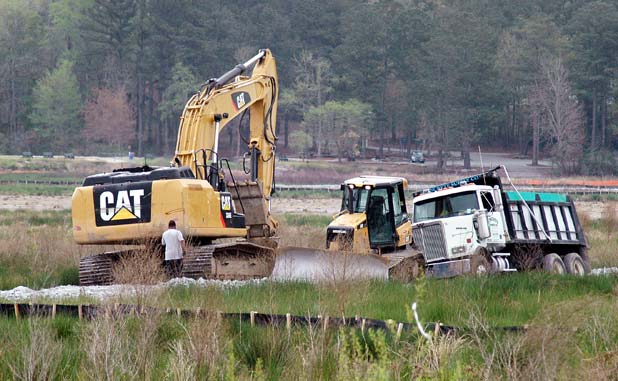 Plan will benefit boat owners on west shore
The Peachtree City Council has decided to spend $24,000 to dredge the Pinecrest Boat Dock off Hip Pocket Road. The council on April 2 decided against spending more than $900,000 to dredge a larger area in the center of Lake Peachtree.
The council on a 4-1 vote agreed to have only the one-third-acre area at a depth of two feet at the Pinecrest Boat Dock dredged for a price of $24,200.
Council members considered, but decided against, the option of having an area between 7.4 acres and 13.4 acres dredged. That area is located adjacent to the large area immediately south of Ga. Highway 74 currently being dredged by Fayette County.
The city's cost for having the larger area dredged would have been between $911,000 and $1 million.
Councilwoman Kim Learnard suggested the city move forward with the $24,200 dredging work "and not the $900,000 dredging."
Councilman Eric Imker cast the lone opposing vote. Imker said he uses the Pinecrest Boat Dock and, from his experience, "it works fine."
Imker stated his belief that "you're supporting those with big gasoline motors."
Area resident Tom Fulton told the council that the propellers on some boats do impact the lake bottom.
Council during the discussion concluded that the boat dock, while often used by up to 30-40 homes on the west side of the lake, is open to all Peachtree City households.
The county's dredging project to remove 64,000 cubic yards of material is underway and is expected to be completed in June, providing the weather cooperates with dredging efforts.
Below, the Pinecrest boat ramp earlier this week. Photo/Ben Nelms.