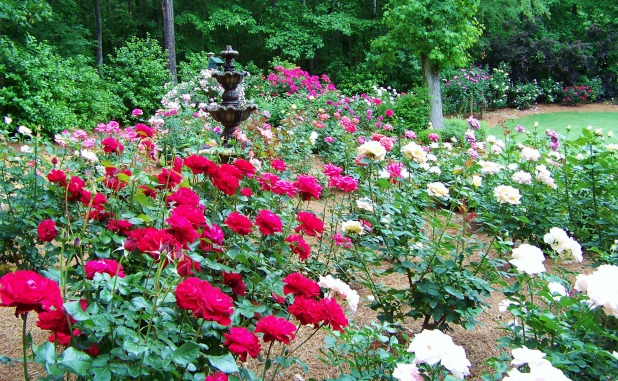 The Fayette Master Gardener Association's annual Plant Sale and Garden Tour is set for Saturday, April 25, come rain or shine.
All proceeds go to local charities and to community garden/education projects.
The Plant Sale will be open from 8 a.m. – 2 p.m. at the Fayette County Stonewall Government Complex. All kinds of flowers, shrubs, veggies, herbs and trees will be sold and local vendors will be selling garden related items. Cash, check, Visa and MasterCard will be accepted.
The walking Garden Tour features seven beautiful gardens that can be visited in any order from 10 a.m. – 4 p.m. Advance tour passes are $15 and $20 on tour day.
Tour passes can be purchased at Wild Birds Unlimited in Peachtree City, Art of Landscaping, Highway 85 South in Fayetteville, Town Square Jewelers in Fayetteville, and at the Plant Sale or any of the gardens on the day of the tour.
The following gardens are on the tour.
Garden 1 – 131 Lincoln Road, Tyrone. The grounds of this stately home showcase maples, dogwoods, pink and white azaleas, junipers and a secret fountain.
Garden 2 – 306 Wintney Way, Peachtree City. This master rosarian's garden has fountains, statuary and 270 rose bushes. Also featured are hydrangeas, mums, abelia, daphne, dwarf loropetalum and pittosporum.
Garden 3 – 1304 Euclid Court, Peachtree City. This lovely Kedron Hills garden offers interesting conifers, Japanese maples and a terraced vegetable garden with beehives. Don't miss the cascading waterfall and pond.
Garden 4 – 412 Loyd Road, Peachtree City. This beautiful Smokerise garden has formally maintained evergreens, hostas, roses, azaleas, camellias and gardenias. An elegant, inviting pool with a waterfall is a definite highlight.
Garden 5 – 207 Clear Springs Lane, Peachtree City. A recent landscape makeover makes this Smokerise garden unique with rare and seldom seen plants. Sculptured pines highlight the backyard pool and waterfall. The azaleas, camellias, daphne, edgeworthias, gardenias and roses will delight and educate the visitor.
Garden 6 – 1483 Highway 54 E, Fayette County. Come see this 56 year old garden. There are masses of hardy succulents, flowering trees, garden art and stonework all created by the owner.
Garden 7 – 231 Cedar Trail, Fayette County. This owner built the garden all by herself. Take a stroll through the winding paths and enjoy hostas, daylillies, many perennials and shrubs.
For more information or to order passes, email fayettemga@gmail.com.