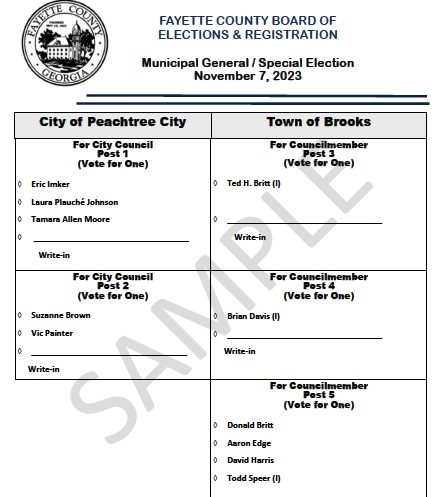 Voters in four of Fayette County's municipalities cast their ballots today to decide two contested council posts in Peachtree City, and one each in Fayetteville, Tyrone and Brooks. Votes cast during early voting also will be tallied today.
Peachtree City has two open council posts to be decided. For Post 1, the three candidates are Eric Imker, Laura Plauché Johnson and Tamara Allen Moore. Post 1 incumbent Phil Prebor is term-limited by city charter and cannot run for a third term.
For Post 2, the candidates are Suzanne Brown and Vic Painter. Incumbent Mike King is term-limited and cannot run for reelection.
Fayetteville has one contested slot, Post 2. Incumbent Joe Clark is opposed by Cathy Vaught.
In Fayetteville, Mayor Edward Johnson and Post 1 Councilman Darryl Langford are unopposed for reelection. 
Tyrone also has one contested seat, Post 1. Wil James is opposed by Jessica Whelan.
Tyrone Mayor Eris Dial is running unopposed for another term as mayor, while Dia Hunter is unopposed for the Post 2 slot.
The small town of Brooks in south Fayette County has one contested seat, Post 5. Incumbent Todd Speer is being opposed by three opponents: Donald Britt, Aaron Edge and David Harris.
Brooks council members Ted H. Britt (Post 3) and Brian Davis (Post 4) have no opponents for their reelections.
Polls close at 7 p.m. this Tuesday night, and the counting starts after that.
Should a runoff election be necessary, it will be held Dec. 5.