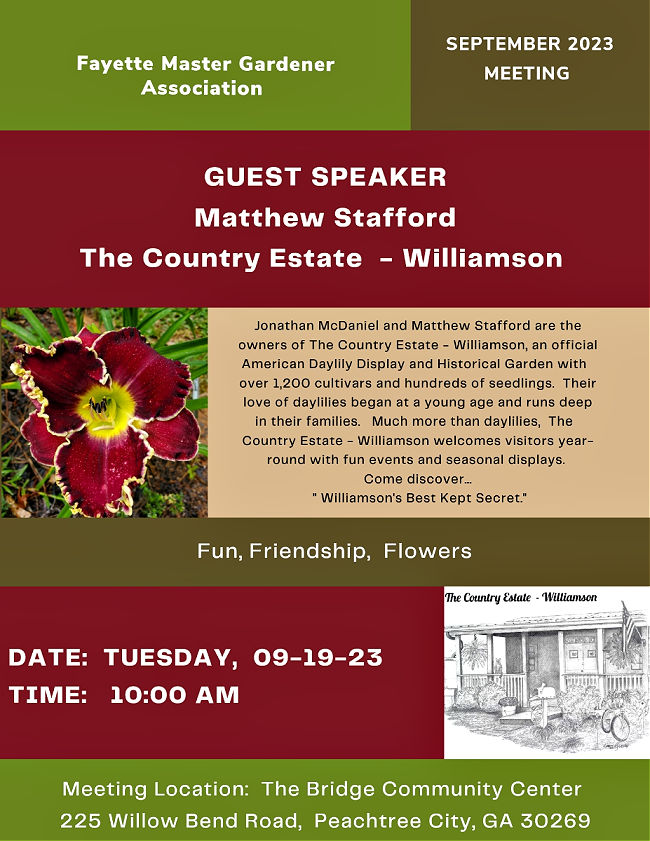 Matthew Stafford, an award-winning expert on daylilies, will speak on Tuesday,  September 19, at 10 a.m. at the Fayette Master Gardener Association (FMGA) public meeting in Peachtree City.  Stafford, along with Jonathan McDaniel, is founder and co-owner of The Country Estate in Williamson, Georgia, an official American Daylily Display and Historical Garden with more than 1,200 cultivars and hundreds of seedlings. Visitors attend year-round events and seasonal displays at the garden.
The meeting will open with a social hour at 9:30 a.m. followed by the 10 a.m. presentation at The Bridge Community Center, 225 Willow Bend Road, Peachtree City, GA.  The public is invited to attend monthly meetings and events.
FMGA is a non-profit community organization of Master Gardeners and friends.  Membership and programs are open the general public.  An annual spring public plant sale funds a community horticulture grants and other educational programs.
For grant applications email fayettemga@gmail.com.  The organization's website is at www.fayettemga.org . The Country Estate at Williamson, GA, posts events and updates regularly on its Facebook page.