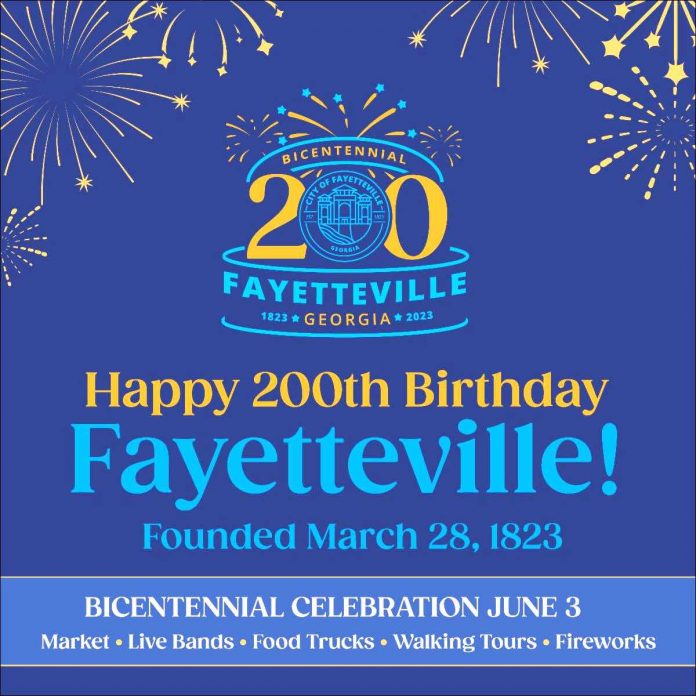 Parking directions below — 
The City of Fayetteville's much-anticipated Bicentennial Celebration has a load of events for the June 3 spectacular, which will take place at both the Historic Courthouse Lawn and City Center Park. A downloadable version of the schedule is available at www.fayetteville-ga.gov/200th.
A 75-vendor Makers Market will be featured 4-8 p.m. on the Historic Courthouse Lawn, with live music to include "The Voice" singer Taylor Lee from four o'clock to six, Atlanta Drumline from six o'clock to 6:15, and Rooted in Texas soloist Megan Ashley from 6:15 to eight. Fayette County Historical Society will host its "Tales & Ales" walking tour fund raiser 2-4 p.m. to kick off the day of downtown festivities.
The Makers Market food truck lineup includes Arnaud's BBQ, Mommies Empanadas, and Wing & Waffle Factory. Sweets will be provided by The Cereal Lab and Sunset Slush. Beverages will be on tap from Gremlin Growlers, Awkward Brewery, and Line Creek Bus Barn.
The main gathering will take place two blocks away at City Center Park, where Mayor Ed Johnson will take the stage at 5 p.m. to welcome the community, introduce special guests, and announce the commencement of the Bicentennial Celebration. He will be followed by live performances from The New Quintet, The Tyler Neal Band, and headliner Forrest Isn't Dead.
The concerts will give way to a ten-minute firework show at 9:30.
Food trucks at City Center Park will include Baltimore Crab Cakes, PTC Grill, Meatballerz, and Hog Pitt BBQ. Sweets will be offered by Operation Mini Donuts, Mayday Hippo, and Scoops. Adult beverages will be poured by Line Creek Bus Barn.
A special Encore after Dark will wind down the evening just behind Fayetteville City Hall, which is adjacent to City Center Park, from 9:45-11. Soloist David Baty will keep the party going with a mixture of rock and blues, and a bar will be operated by Twisted Taco.
Special guests at City Center Park will include Freddie Falcon and the Atlanta Falcons Cheerleaders, who will host an inflatables fun zone for kids.
Six Downtown Fayetteville parking lots available for June 3 Bicentennial Celebration
Six designated Downtown Fayetteville parking lots will be available for the June 3 Bicentennial Celebration, which will take place on the Historic Courthouse Lawn beginning at 4 p.m. and at City Center Park beginning at 5 p.m.
The primary parking lots include the Fayette County Government Complex located on the southwest corner of the Historic Courthouse Square, Fayetteville First Baptist Church's overflow parking on Johnson Avenue, the Fayette County Justice Center at 1 Center Drive, and at Fayette County High School on Tiger Trail. Limited parking for vehicles with Disability Parking Placards will be available at the Fayette County Public Library on Heritage Parkway.
There will also be limited parking at Fayetteville City Hall adjacent to City Center Park and in the designated event parking lot at the new Walton Fayetteville apartment complex. Non-resident vehicles parked in non-designated areas at Walton Fayetteville will be subject to towing.
The Fayetteville Police Department will assist pedestrians as they use the Georgia Highways 85 and 54 crosswalks during the event.
For more information about the Bicentennial Celebration, visit www.fayetteville-ga.gov/200th.