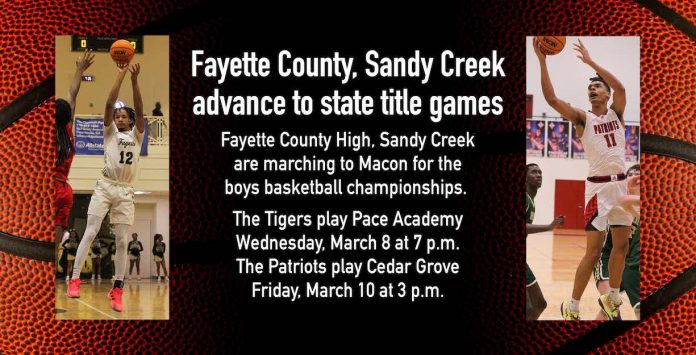 A championship double dip is still in play after the Fayette County Tigers and Sandy Creek Patriots both won in the semifinals to advance to their respective state championship games at the Macon Centreplex.
Both teams are in pursuit of the first boys basketball state championship in county history
In Class AAAA, Fayette County bested the Benedictine Cadets, 73-67.
The Tigers jumped out to a narrow 18-16 lead in the first quarter, then exploded in the second quarter with a 23-10 burst to hold a commanding 15-point advantage at the half.
They kept up the intensity after the break to lead by 17 going into the fourth quarter, where they withstood a rally attempt by the Cadets.
RJ Kennedy led the way with 21 points, 5 rebounds, and 3 steals. Keith Gillespie scored 17 points. Sean Van Dorn chipped in 15 points and 7 rebounds.
The Tigers play Pace Academy for the title on Wednesday, March 8 at 7 p.m.
Pace Academy entered the playoffs ranked number 2 in the classification, with the Tigers number 5.
In Class AAA, Sandy Creek rolled over the Cross Creek Razorbacks, 61-44.
The Patriots ended Cross Creek's bid for a three-peat, exacting a bit of revenge for their loss to the Razorbacks in the 2021 title game.
It was all Patriots from the outset. They raced out to a 16-7 lead after one quarter and expanded the advantage to 34-15 at halftime. They held a commanding 23-point lead heading into the final frame and cruised to the finish line.
Micah Smith paced the Patriots with 16 points. PJ Green scored 13 points, and Vic Newsom added 10.
In the state championship game, the Patriots play Cedar Grove on Friday, March 10 at 3 p.m.
This will be the fourth meeting this season for the region rivals. Sandy Creek won the three earlier meetings by an average margin of 27 points.
The Macon Centreplex is located at 200 Coliseum Drive in Macon.