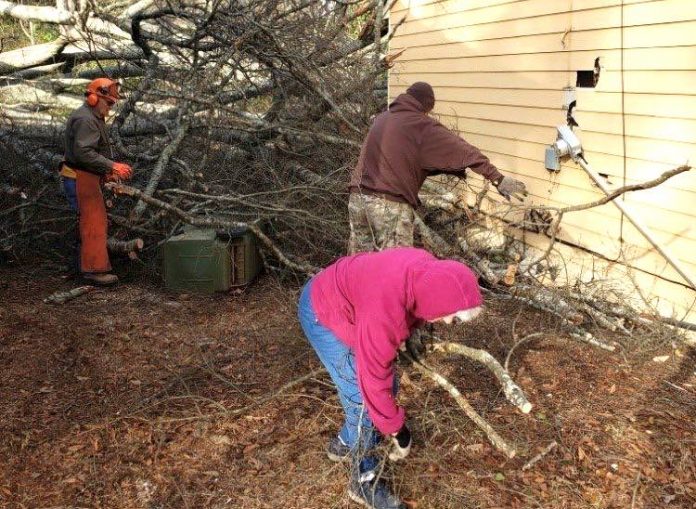 Georgia Baptists launch major mobilization to help tornado victims
---
By ROGER ALFORD, The Christian Index
---
GRIFFIN, Ga. – Chainsaw crews from Georgia Baptist churches expect to be busy for three weeks or more helping tornado victims remove trees from their homes and property in Griffin and other hard-hit communities.
They began arriving within hours of the tornado outbreak that's being blamed for two deaths and widespread property damage.
"It's bad," said Dwain Carter, leader of Georgia Baptist Disaster Relief. "There are lots of trees on homes. It's a major tornado zone."
Along with the chainsaw crews, Carter has deployed chaplains, damage assessors and volunteers to man a feeding station, showers and a mobile laundromat. They're staging at Union Baptist Church in Griffin for a mobilization that could last up to a month.
Georgia Gov. Brian Kemp said first responders worked Thursday and Friday to rescue families from collapsed homes.
"We know people that were stranded in homes where literally the whole house collapsed, and they were under the crawl space," Kemp said in a briefing for reporters on Friday.
Kemp said the storm system caused damage across the state. Some of the worst damage, he said, was in Troup County near the Alabama line where more than 100 homes were damaged there and at least 12 people were taken to the hospital.
Georgia Emergency Management and Homeland Security Director James Stallings said a 5-year-old was killed by a toppled tree that fell on the vehicle the child was riding in in Butts County.
Stallings said a parent who was driving suffered critical injuries.
Kemp said a Department of Transportation worker also was killed while responding to storm damage.