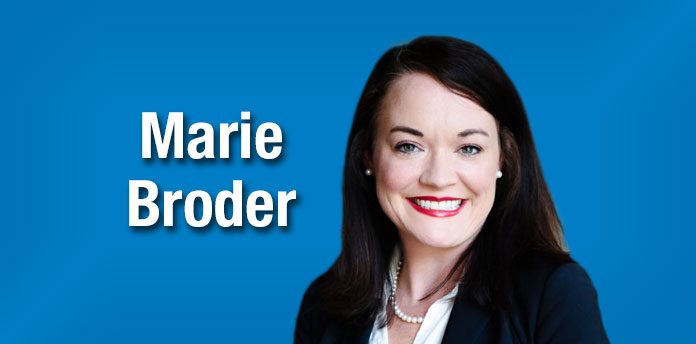 ---
By DISTRICT ATTORNEY MARIE BRODER
---
My offices have been very busy this fall with trying cases, and I am extremely proud of the work they have done.
As prosecutors, we often find ourselves immersed in the minute details of trial work. What are the charges? How do we prove each element of those charges? What evidence do we need to present? What witnesses need to testify? In what order? What will the challenges be to our evidence? What are the case's weaknesses? How do we combat the defenses?
As you might imagine, prosecutors spend countless sleepless nights answering these questions. Second-guessing themselves. Worrying. Always worrying that they might make a mistake that results in a not guilty verdict or a reversal on appeal. There are no second chances for a prosecutor.
But once we step out of these details and see the forest through the trees, what are we pursuing? Three simple things. Truth, Justice, and Peace.
We want the jury to speak the truth with its verdict. The word "verdict" comes from two Latin terms. "Veritas," which means "Truth" and "Dictum," which means to "Speak." When we put them together, we ask the Jury to speak the truth — to render a verdict.
The second thing we want is for the Jury to provide Justice for the victim and their family. Justice means different things to different people. But for the victim of a crime, oftentimes justice means that the defendant is held accountable for the crimes they committed.
Finally, and perhaps most importantly, a prosecutor hopes to bring peace — peace to a family who has often waited years to see a murderer, rapist, or abuser face the consequences of their actions.
Grief is a terrible thing that does not run in a straight line, but some parts of the grieving process cannot even begin until the perpetrator faces the consequences of their actions and the cloud of a trial no longer hangs over the heads of a victim or their family.
Truth, Justice, and Peace. These ideals are what a prosecutor seeks.
I want to thank my assistant district attorneys for giving these three words life. They have worked tirelessly over the past few months to try cases and present guilty pleas that resolved cases. They never lost sight of the goal to bring truth, justice, and peace to those who desperately needed it. I also want to thank assistant district attorneys across this State for delivering on these ideals. 
I hope all of you enjoyed Halloween with your families. Until next time, be good to each other.
[Marie Broder has served as the Griffin Judicial Circuit district attorney since 2020. She resides in Griffin.]