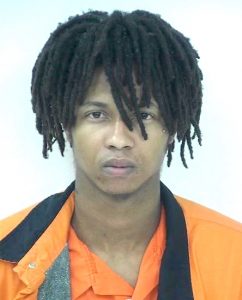 Fayette County sheriff's investigators are searching for a Riverdale man who snatched the car keys of a woman at a store in north Fayette, then struck a store employee with the vehicle as he fled the scene in the stolen car.
Arrested warrants have been issued for Jaylen Hall, 21, for robbery by sudden snatching and motor vehicle theft, according to Sheriff Barry Babb.
The Aug. 3 incident occurred just before 6 p.m. at the Chevron station on Ga. Highway 92 North at Rivers Road.
A Hampton woman was inside the store scratching lottery tickets when Hall, who was standing beside her, snatched her car keys. The woman then snatched her keys back, only to have Hall grab the keys from her again and flee to the parking lot, said Babb.
Hall then entered the woman's 2021 Mercedes SUV and began to drive off. Hall was hindered by a store employee who tried to stop him, but was struck by the vehicle as it fled the parking lot, Babb said.   
Babb said the employee did not sustain serious injury.
The vehicle was later located in Clayton County.
Anyone with information pertaining to Hall's whereabouts is asked to contact the Fayette County Sheriff's Office at 770-461-6353.
Sequence below shows suspect inside store and outside in vehicle. Photos/Fayette County Sheriff's Office.