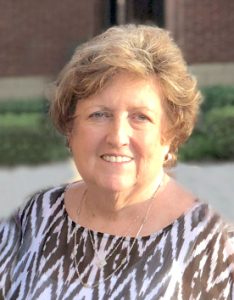 Linda Sue Coleman Moore, 74, of Fayetteville, GA, passed away on Friday, June 24, 2022 following a motor vehicle accident.
Born on February 20, 1948 to Rachel Naomi Parris and JC Coleman in Atlanta, GA, and raised in East Point, Linda leaves behind her husband of 48 years, Gary Moore; daughter, Jennifer McMenamin and "favorite son-in law," Steve; sister, Carol Coleman Szalma and husband Steve; nephew, Stephen Szalma and wife, Molly; her church family at First Christian of Tyrone; and numerous friends that she considered her family.
Fifty years ago this summer, Gary met Linda and asked her to dance. She said "yes" (despite nearly a foot and a half difference in their heights), and at that moment, they began the greatest life and love imaginable, one that most people only dream of finding.
Taking on the roles of wife, mother, homemaker and volunteer, Linda showed her love selflessly through her service to God and her church, her friends, and, of course, her family. Linda created a beautiful and welcoming home for Gary and Jennifer, one rooted in Christian values and full of warmth, love and wonderful food.
Most people can make holidays special; Linda was no exception and she loved hosting family and friends for any occasion.
But, her real gift was in making every day feel special, and in making you feel special through her words and actions. Her efforts never went unappreciated nor unnoticed.
In fact, in the early 80s, Linda was chosen as the Homemaker of the Year for Clayton County and runner-up for the state of Georgia. Jennifer joked that this gene must have skipped a generation because she inherited few of Linda's caretaking traits, but in reality, she knew her mom was one-of-a-kind, a woman who effortlessly set the bar high in the way that she loved and cared for everyone.
Off and on through the years, Linda taught preschool, which was a fitting career for someone who had her kindness, generosity and limitless energy. Even when busy working and caring for her family, Linda always made time for volunteer service to her church and community. Whenever asked to take on a project or job at the church, her unhesitating answer was always "yes."
Linda taught children's church and VBS, chaired two circles, the women's council, the funeral ministry and countless other committees over the years. If the church hosted an event, you can guarantee that Linda had a hand in it.
She never met a stranger and was always the first to greet and welcome someone new to the congregation.
All of this? This is just who Linda was. Her love, kindness and generosity were always going to shine, regardless, but it definitely shined brighter because of Gary, who loved her so deeply, supported her without fail and was always so proud to be her husband. Never were two people so perfect for each other. They brought out the best in each other, and anyone could easily see this after spending just a minute with them.
It didn't matter if Linda and Gary were in one of the many beautiful places they traveled to across the world, or if they were at home, just sitting on the couch, as long as they were together, they had everything they needed.
They never failed to tell and show each other how much they loved one another every single day. How incredibly lucky they were to have shared this love and life together for fifty years … but it wasn't enough. When you are lucky enough to share a love like Linda and Gary did, the loss is more profound because you know exactly what you're missing.
Linda loved — period — and it is her family's greatest wish that everyone who was lucky enough to have been loved by her to join us on Thursday, June 30, 2022 at 1:00 p.m. for a visitation with the family and at 2:00 p.m. for the Memorial Service at First Christian Church of Tyrone (294 Jenkins Road) to try to show Linda just how much we loved her.
To honor Linda's giving spirit, we welcome donations to Southwest Christian Care, 7225 Lester Road, Union City, GA 30291, www.swchrisitancare.org or to Donor's Charity of Choice.
Fond memories and expressions of sympathy may be shared at www.carmichaelhemperleypeachtree.com for the Moore family.