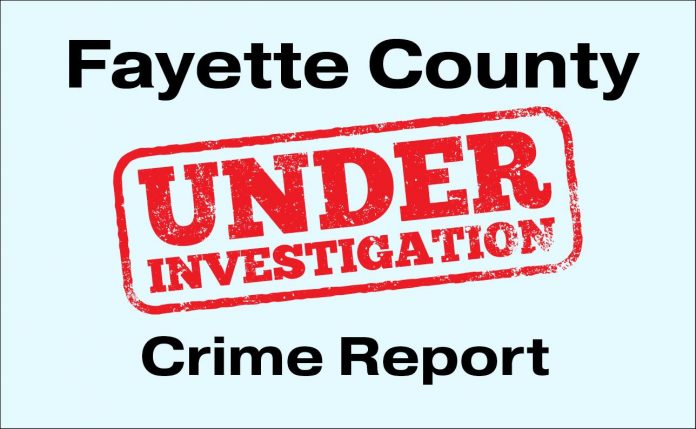 Going for a test drive in a vehicle before buying it is not uncommon. Not so common is when the supposed customer fails to return the vehicle.
That is what happened on May 26, according to a Fayette County sheriff's report noting a vehicle theft from an auto shop on Commerce Street, near the intersection of Ga. highways 314 and 138 in north Fayette County.
Sheriff Barry Babb said the shop reported that a male and female, both believed to be in their 20s, came to the business to inquire about purchasing a 2008 Volvo XC90.
The woman took the vehicle for a test drive while the male stayed behind, showing the employee the money they had for the purchase, said Babb.
At one point, the male "disappeared" and the woman doing the test drive never returned the vehicle, Babb said of the employee's report.
In other cases, aside from several recent entering autos in the area of the intersection Ga. highways 54 and 74 in Peachtree City, three more occurred there in the past week. Also reported the same day, seven vehicles were entered in north Fayette County off Ga. Highway 279.
Two of the incidents in Peachtree City were at Chili's Bar and Grill on Marketplace Connector, both on May 25.
In the first incident, an officer responded to the location at approximately 11:15 p.m., with the victim reporting that the rear window of her vehicle had been busted and her purse containing her driver's license and credit cards stolen, the police report said.
Also at Chili's on May 25, the rear window of a vehicle was busted and a purse with multiple credit cards were stolen between 4-11:30 p.m., according to the report.
And finally on May 25, another entering auto occurred at the Green Ginger restaurant, adjacent to Chili's.
An officer at 9:43 p.m. spoke with the vehicle's owner, who said a handgun, a drill and an iPad were removed from the vehicle. The vehicle had been left unlocked, the report said.
In unincorporated north Fayette County, there were seven entering autos reported on May 25.
One of those vehicles, at a Deauville Way residence off Hwy. 279, had been left unlocked with belongings from the vehicle found laying on the ground nearby, said Babb.
At a residence on nearby Marseille Way, a passenger window was forced but nothing was taken, said Babb.
Across Hwy. 279, three vehicles at two homes on Morning Springs Walk were reported being entered. Nothing was stolen from the vehicles, all of which were unlocked, Babb said.
Two more vehicles were reported entered on May 25 at a residence on Hwy. 279. Babb said both vehicles were unlocked and rummaged, with a wallet stolen from one of the vehicles.