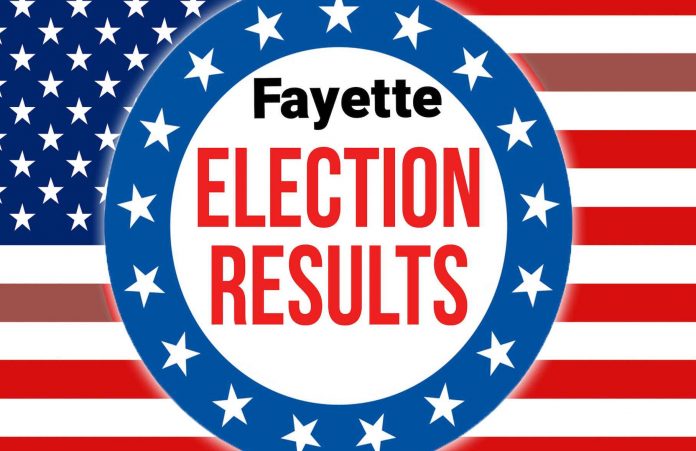 FINAL UPDATE 11:17 p.m. — All Fayette votes have been counted. Outright Fayette winners are Roy Rabold to the school board, and a $210 million renewal of the penny sales tax for local schools. Other local and district races are below.
UPDATED 9:24 p.m. — 28 precincts have been counted and included in the totals below.
UPDATED 8:35 p.m. — Based strictly on the early vote tabulations in races excusively within the Fayette County borders, here are the likely winners of contested in-county races by night's end:
For Republican Board of Education District 2, incumbent Roy Rabold will likely be the nominee, without a runoff.
For Democrat Board of Education District 4, Regina Daigre will likely be the top vote-getter, but she must get over the 50% threshold to avoid a runoff.
Educational SPLOST continuation — the YES vote is easily carrying the night.
UPDATED 8:10 p.m. — Early votes have been tabulated, with results below. They represent a little over 10% of the registered vote (8,995)
UPDATE 7:54 p.m. — Polls have closed, and we are awaiting the first count.
Fayette County reports 88,415 registered voters eligible for the May 24 Primaries.
Democrat Contested Races
US House District 13
Mark Baker 407 (13.58%)
Shastity Driscoll 293 (9.77%)
Vincent Fort 268 (8.94%)
David Scott (incumbent) 2,030 (67.71%)
========================
GA Lieutenant Governor (9 candidates)
Erick Allen 745 (7.03%)
Charlie Bailey 1,876 (17.69%)
Tyrone Brooks Jr. 1,085 (10.23%)
Tony Brown 278 (2.62%)
Kwanza Hall 3,100 (29.23%)
Jason Hayes 232 (2.19%)
Derrick L. Jackson (of Tyrone) 1,925 (18.15%)
R. Malik 146 (1.38%)
Renitta Shannon 1,217 (11.48%)
========================
State House of Representatives District 68
Tish Naghise 1,452 (63.46%)
Jane Williams 836 (36.54%)
========================
State House of Representatives District 69
Debra Bazemore (incumbent) 4,006 (74.57%)
Cobie Lyrix Brown 246 (4.58%)
Tyriq Jackson 1,120 (20.85%)
========================
State House of Representatives District 74
William Harris 804 (68.08%)
Errol Mitchell 377 (31.92%)
========================
Fayette Board of Education District 4 (open, was Leonard Presberg)
Regina Daigre 2,224 (49.24%) IN RUNOFF
Miriam Gwathney 831 (18.40%)
Patty Mosley 1,462 (32.37%) IN RUNOFF
######################################################################
Republican Contested Races
US Senate
Gary Black 2,827 (13.80%)
Josh Clark 884 (4.32%)
Kelvin King 805 (3.93%)
Jon McColumn 532 (2.60%)
Latham Saddler 2,540 (12.40%)
Herschel Walker 12,896 (62.96%)
=======================================
GA Governor
Catherine Davis 169 (0.80%)
Brian Kemp (incumbent) 16,249 (77.24%)
David Perdue 4,011 (19.07%)
Kandiss Taylor 566 (2.69%)
Tom Williams 42 (0.20%)
=======================================
GA Lieutenant Governor
Burt Jones 10,234 (52.79%)
Mack McGregor 2,217 (11.44%)
Butch Miller 5,254 (27.10%)
Jeanne Seaver 1,682 (8.68%)
=======================================
GA Secretary of State
David Belle Isle 1,596 (7.82%)
Jody Hice 6,179 (30.26%)
T.J. Hudson 867 (4.25%)
Brad Raffensperger (incumbent) 11,780 (57.68%)
=======================================
US House of Representatives District 3
Jared Craig 3,144 (17.5%)
Drew Ferguson (incumbent) 14,824 (82.50%)
=======================================
GA House of Representatives District 74
David Ballard 2,410 (42.91%)
Karen Mathiak (incumbent) 3,207 (57.09%)
=======================================
Fayette County Board of Education District 2
Janice Bennett 419 (6.48%)
Alyson Otto 2,317 (35.83%)
Roy Rabold (incumbent) 3,730 (57,69%) WINNER without runoff
######################################################################
E-SPLOST
YES 20,299 (63.49%)
NO 11,671 (36.51%)