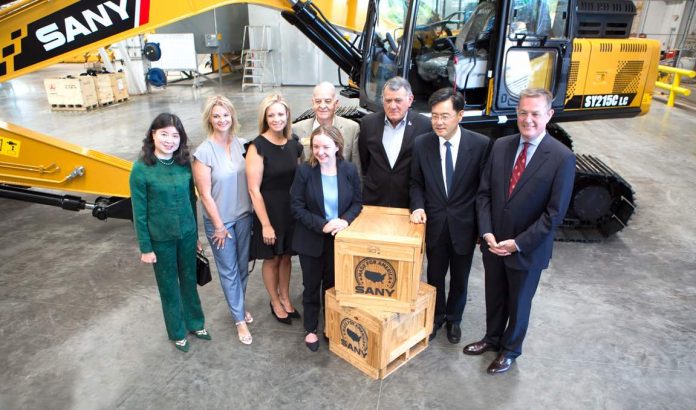 Peachtree City Council members and SANY America welcomes Chinese Ambassador Qin Gang to the U.S. subsidiary headquarters — 
Peachtree City Council Members and SANY America, the U.S. subsidiary of China's heavy construction equipment manufacturer, on May 12 welcomed Chinese Ambassador Qin Gang to its headquarters, which is located here off Ga. Highway 74 South. Qin was appointed to be China's ambassador to the United States in 2021.
The Ambassador toured the property Thursday alongside SANY America CEO Doug Friesen and Peachtree City Council members Mike King, Frank Destadio and Gretchen Caola.
On August 26, 2011, SANY America opened its U.S. corporate headquarters in Peachtree City, featuring 272 acres with 60,000 sq. ft. of office space and a 340,000-sq. ft. manufacturing and assembly area.
SANY assembles heavy equipment here at their Peachtree City location for their construction line of equipment, specifically the large excavators that are sold throughout the U.S. to its network of over 50 dealer partners.
SANY America also sells equipment lines for the lifting/port industries, such as fork trucks and container handlers, and several styles of Cranes. It sources quality components from world-leading brands such as Cummins, Deutz, Yanmar, Isuzu, and Dana, to name a few.
 "I am happy for Peachtree City to have job opportunities like those that SANY provides in the city with pay starting at $20 an hour," said Councilman Frank Destadio. "These are the types of quality jobs that our residents should have available to them."
While currently employing over 230 people, SANY America is one of the city's largest employers and is continuing to grow its local team talent pool to bring on additional lines.