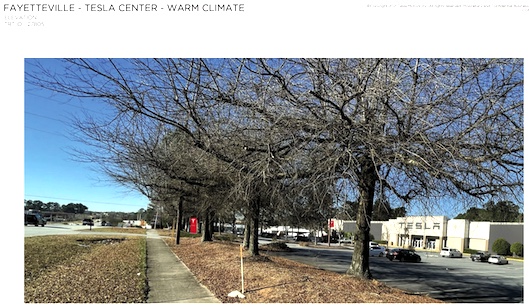 Goodbye, Haverty's Furniture store. Hello, Tesla showroom just south of the Pavilion in Fayetteville.
The hottest car company in the world will likely have a showroom for its popular electric vehicles under construction later this year on Ga. Highway 85 North if — as expected — the Fayetteville City Council approves a rezoning this coming Thursday.
A showroom, not a dealership, because Tesla owns all its showrooms and has no franchised dealerships. You buy the vehicle directly from the company via the internet.
Right now, Tesla has more than 170 galleries and showrooms around the U.S., 438 worldwide. Most of its vehicles are actually purchased online. So to try out a Tesla, you schedule an appointment, go to a showroom like the one soon to be in Fayetteville and take a half-hour-long test-drive.
Georgia currently is home to a half-dozen showrooms in the north Atlanta metro area and one in Savannah, meaning the Fayetteville showroom will be among the first on Atlanta's southside. In addition there are multiple Tesla-provided charging stations, including several in Fayette and Coweta counties, where you can park and plug in.
The proposed site in Fayetteville is a total of 9.64 acres, with part of that occupied by the 65,000 square-foot building housing Haverty's Furniture. The city report says Haverty's is closing that store later this year and the property will be vacant.
If all goes as expected Thursday evening, Fayetteville — and Fayette County, as well — will soon have its second new car showroom. The first was a Ford dealership now in business for more than 40 years at its longtime location on North Glynn Street.
By the way, the cheapest Tesla you can buy now is the Model 3, starting at $42,690, according to the Tesla website. On a full charge, you'll get 334 miles plus zero to 60 in 4.2 seconds. Unlike the original Ford Model T — which according to Henry Ford came in any color you wanted, as long as it was black — Tesla offers five colors, which includes solid black and solid white.